Some experts said Viet Nam's labor market will become more heated post-WTO, and there may be fierce competition for high-quality laborers, managers and executive officers.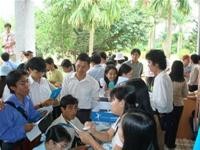 Laborers attend a job fair in Can Tho City (Photo: Tuoi Tre)

An official of the International Cooperation Department (under the Ministry of Labor, Invalids and Social Affairs) said under WTO commitment, at least one fifth of managers, executives and specialists in Viet Nam-based foreign companies must be Vietnamese.

Meanwhile, Viet Nam regulates that the number of foreign workers in those companies should not exceed 3 % of the company's employess.

Therefore, the said-above commitment will affect the market of high-quality workers only.

Recruitment experts said native workers may have to compete with foreign ones after Viet Nam's accession to the WTO. "There will be increasing scarcity of high-quality human resources post-WTO. So what matters is whether Vietnamese candidates are well-qualified and skillful enough to prove their talent, and chances are on their hands", one of the experts said.

In reality, thousands of applications of candidates from the US, Australia, Holland, the Philippines, Malaysia, Singapore and Hong Kong are overwhelming the leading employment website vietnamworks.com.

It is predicted that a new wave of foreign high quality workers will flow into Viet Nam in the near future. However, companies will have to pay foreign managers from 10 to 50% higher than the Vietnamese managers.

Mr. Jonah Levey, General Director of Navigos Group – vietnamworks.com, said: "In the third quarter of 2006, some 6,163 candidates applied online, mainly in the fields of business, account-finance and practical technology". However, only 35-40% of them are seemingly appropriate, he added.

He also advised would-be-candidates on actively taking part in extra-curricula and social activities to improve team-work spirit, and brush up their English and IT skills in order to be accepted by future recruiters.