Viet Nam has an advantageous image and is capable of doing what other countries have done, marketing legend Dr. Philip Kotler told correspondents in Ho Chi Minh City yesterday.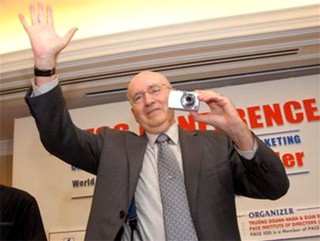 Dr. Philip Kotler at the press conference in HCMC yesterday
He made it clear that a nation's citizens are an important factor in creating the image of a nation. The Vietnamese people are friendly, hospitable, diligent and ambitious in the world's eyes.
 
Responding to reporters' questions relating to competitiveness and developmental opportunities for Vietnamese enterprises, Dr. Kotler said local enterprises should progress step-by-step if they want to "attack" the world market.
 
Firstly, they have to have good standing in the domestic market by making high quality products which are valuable to customers.
 
Next, they should conquer neighboring markets such as other Southeast Asian nations and try to satisfy the various demands of those countries before breaking into larger markets in Asia, and then more distant markets such as the US, he suggested.
Implementing this strategy could help Viet Nam grow into one of the world's top ten most developed economies in the near future, he said.
On his first visit to Viet Nam, Dr. Philip Kotler presided over a workshop titled "New Marketing for a New Age" in the city today which attracted 700 businesspeople and managers from Viet Nam and neighboring countries.
 
The workshop focused on topical issues of the marketing field in the new age, including new marketing roles and positions in companies, seeking new opportunities in the global business environment and new approaches in modern marketing.
Dr. Kotler is visiting Viet Nam at the invitation of the HCMC-based PACE Education Group which offers training for CEOs and CFOs.
Born in 1931 in Chicago, Philip Kotler is considered 'the father of modern marketing'. He is the author of Marketing Management, one of the canon books of the world marketing sector.
 
He is also a pioneer of social marketing and was selected as the fourth most important management guru of all time by the Financial Times, behind Jack Welch, Bill Gates and Peter Drucker.
 
He is now the top expert of the Kotler Marketing Group (KMG) and the S.C. Johnson & Son Distinguished Professor of International Marketing at the Kellogg School of Management at Northwestern University.
Through his consulting firm KMG, Dr. Kotler has consulted for many major U.S. and foreign companies - including IBM, Michelin, Bank of America, Merck, General Electric, Honeywell, and Motorola - in the areas of marketing strategy and planning, marketing organization, and international marketing.