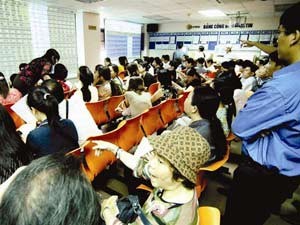 The Vietnamese stock market has attracted more and more foreign investment funds.
Since 2004, a new chapter for foreign indirect investment has come. There have been twenty funds established in Viet Nam with the total amount of US$2 billion. Conceivably, a booming period of investment fund has begun.
At present, Prudential with the investment capital of US$500 million is the biggest investment fund in Viet Nam.

However, 65 percent of its capital was poured into government bonds, while the remainder which is worth about US$175 million was invested in capital assets and securities.
Although the Vietnam Opportunities Fund had raised US$171 million by December last year, it still has more than US$86 million in cash. Therefore, the market price of its assets reached only US$102.4 million.
Meanwhile, the Vietnam Enterprise Investment Fund with the capital of US$486.9 million is considered to be the biggest investment fund in Viet Nam by the end of September 2006.
In terms of fund management, Dragon Capital is viewed as a company that manages the most funds with the total investment capital of US$860.4 million for three funds, followed by Vinacapital with the investment capital of US$491.7 million.
The equitization rate of state-owned enterprises has been accelerated in the past two years. As a result, more than 1,400 state-owned enterprises were equitized in two years – 2004 and 2005, raising the number of equitized firms to more than 2,966.
Nevertheless, most of them are medium and small-sized companies, in which the amount of government stocks and shares is rather small.
With more than 700 big state-owned enterprises waiting for their turn to be equitized in the coming years, there will be a big opportunity for both local and foreign investors.
Last year provided a snapshot of Viet Nam's small bourse with 458 bonds and two fund certificates in addition to only 193 companies listed on the Ho Chi Minh City and Ha Noi Securities Trading Centers.
Therefore the total capitalized value of stocks trading on both centers has reached around US$13.8 billion, accounting for about eighteen percent of last year's Gross Domestic Product (GDP) of the country.
The participation of top names including Vinamilk, Taya, Sacombank, ACB and so on in the stock market together with the fruitful results of listed companies is helping tempt more investors.
On the last trading session in 2006, the Viet Nam-Index on the Ho Chi Minh City Securities Trading Center climbed over 751 points, an increase of 146 percent over early last year. Also, the Index on the Ha Noi Securities Trading Center reached 243 points, increasing 170 percent against the year-start.
Dozens of foreign investors, especially Japanese, have high hopes of the equitization in state-owned giants such as Vinaphone, Mobiphone, Vietcombank and BIDV, and they believe that Viet Nam's economy will continue to grow steadily and rapidly. Therefore, they are ready to pour their money into the country.
Foreign economists predict that a flow of investment capital of between US$1.5 and US$1.6 million will pour into Viet Nam in the first six to nine months this year. However, they note that Viet Nam's unstable and non-transparent legal and business environment would make foreign investors wary of their investment.