With funding of over US$900,000, eight national trade promotion programs will be launched in the second quarter this year, in an attempt to expand the textile-garment export market, announced the Viet Nam Textile and Garment Association (VITAS) recently.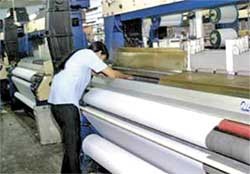 Viet Nam's Phuoc Long Textile factory strives to inrease its export volume in 2006.
The association will use the money to accelerate the establishment of a representative office and a showroom in Germany, take part in international exhibitions and fairs including the Magic Show in the US, Source It in Hong Kong and Titas in Taiwan.
The association will send delegations to the US and Spain to seek business opportunities.
The programs will also help train technicians and designers, open training courses on production management in accordance with the Total Quality Management (TQM) standards.
Also, Vietnamese businesses will have a chance to access more information, join the CPD Düsseldorf fashion fair held in Germany and conduct market research in Spain.
Over 130 businesses and 15 branches nationwide are expected to join the programs.
Beginning this year, businesses will receive financial assistance from the State budget to take part in foreign exhibitions and fairs. This will help them cover the costs of renting and decorating booths and organizing workshops.
Meanwhile, businesses who take part in trade missions to conduct market research in other countries will receive 100% assistance in air fare, organization of workshops and meetings costs.