Vietnam's trade deficit has doubled to US$6.4 billion in the past 12 months yet government officials thinks the situation is under control. Do Van Chien, head of the Industry and Trade Ministry's Trade Information Center, spoke with Sai Gon Giai Phong newspaper about the issue yesterday.
 
SGGP: Why has the trade deficit gone up so much in the eight months since Vietnam joined the World Trade Organization?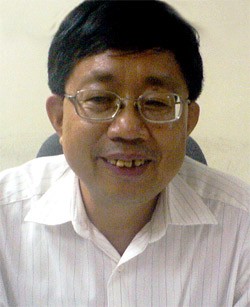 Mr. Do Van Chien
Viet Nam joined the WTO in a different context to other countries. We prepared thoroughly but things have changed a bit since then and there are many new issues to deal with that we didn't foresee.
 
For example, we predicted that foreign direct investment this year would be US$16-18 billion but already the amount is much higher.
 
The sudden increase in imports and prices in general lately is nothing out of the ordinary for a modern market economy. We can blame the higher trade deficit on the general increase in world prices and the greater volume of imports.
 
Is the steep rise in imports normal?
 
Imports are up by 30 percent on a year ago, but this is normal and what the ministry anticipated.
 
A 20 percent excess of imports over exports is acceptable. Admittedly, this ratio has climbed to 20.5 percent but it's reasonable because, in order to boost exports in the fourth quarter, producers had to import a large volume of materials in the second and third quarters. That's why import spending shot up.
 
Because of this, the volume of imports will decline in the fourth quarter and the ratio will return to 20 percent.
 
Some say that the big trade gap is a consequence of protectionism, which has weakened the competitiveness of local producers. What's your view?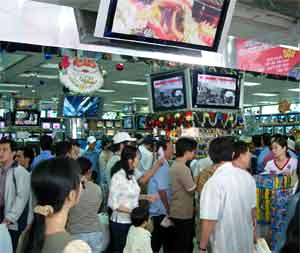 Consumers' being fond of foreign products  directly impacts on the country's import spending (Photo: U.Phuong)
There is no protectionism where the major import items are concerned, the ones where the spending is heaviest.
 
The ministry recently warned there would be more imports of consumer goods and agricultural commodities from China and the rest of ASEAN.
They are gradually taking away the market share from Vietnamese producers. Consumers are fond of foreign products and that has a direct impact on our import spending.
 
Are the lower import duties on 18 classes of goods stabilizing market prices as intended? Are they encouraging greater imports?
 
The tariff cuts are working to keep prices in check. Of course, they encourage more imports but the spending shouldn't go up so much as most of the imports are low-priced, minor goods.