Vietnamese rice exporters have petitioned the Ministry of Agriculture to raise the 2007 export quota after the ministry told them not to accept any more orders for shipment in the final four months of the year. How has the ministry responded? Sai Gon Giai Phong spoke with Deputy Minister of Agriculture and Rural Development Diep Kinh Tan about the issue.

Reporter: Has the ministry discussed the petition?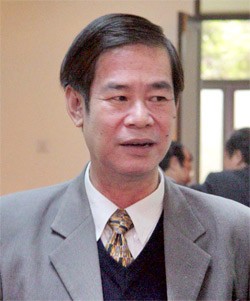 Deputy Minister of Agriculture and Rural Development Diep Kinh Tan
Deputy Minister Tan:
Exporters have contracted to ship nearly four million tons of rice so far this year. This is a safe quantity as far as national food security goes. It equals the volume last year and should bring in 13 percent more revenue than in 2006.
But, and it's a big but, domestic stocks for next year will be exhausted if we continue to export rice as things stand.
Therefore, the ministry told exporters not to sign any more contracts for this year and to focus instead on next year.

Some exporters say they still have rice in stock and the country has one million tons of paddy grain in stock. Since rice is fetching a good price, mightn't it be a bit hasty calling a temporary halt to exports?

The country's stockpile is enough to provide security for this year. However, Typhoon Pabuk and the other recent storm flooded 67,000 hectares of paddy in the central lowlands and highlands, so it's essential to halt rice export for now.

In addition, the people no longer store unhusked grain and the existing stocks of rice companies are barely enough for domestic needs.

If the current and next crops are not damaged by storms or pestilence, will the ministry allow more exports in the final months?

Yes. If the summer-fall crop yields are decent and the following crop is successful, we will consider increasing the export quota for the fourth quarter.

Rice production this year is up by 200,000 tons or perhaps 300,000 tons on last year. Does that mean there is plenty of rice left?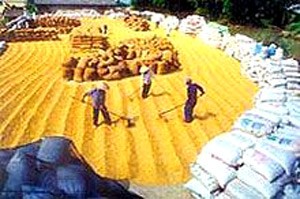 The Ministry of Agriculture and Rural Development tells rice exporters not to sign any more contracts for this year to guarantee the country's food security
The country needs 28.5 million tons of paddy rice for its own consumption this year while the total harvest is estimated at 35.5 million tons.
That difference of seven million tons can be turned into four million tons of polished rice for export.

Adding the leftover stocks from last year, it means we can export a little over four million tons of rice, assuming the rice crop is not devastated by disease or natural disaster. Let's not forget that the next two months are notorious for storms and flooding.

The export price of rice has gone up by US$10 to US$325 per ton. If the export quota is raised, farmers can make more money from the higher price of paddy rice. What's your view?

It's true that a higher price increases our export revenue. But it doesn't mean that the price will drop down again later on. We predict that rice prices will keep going up next year.

The Ministry of Agriculture and Rural Development has concluded that, if more exports are allowed, the country's food security cannot be guaranteed, especially in the first four months of next year.

If our stocks are insufficient, rice will cost more and the people will pay the price.