The Central Institute for Economic Management (CIEM), the government's economic think-tank is optimistic about the nation's capability to achieve a GDP growth rate of 5.56 percent in 2009.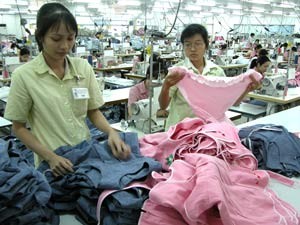 Workers check finished products at a garment factory in Ho Chi Minh City
However, the institute also envisaged two more scenarios in which this rate could drop to 4.69 percent or even 3.39 percent for the year.
At a press briefing in Hanoi on May 13, CIEM President Dinh Van An stated "we have convincing grounds to believe that the national economy will develop in a positive manner", citing the national economy's figures for the first four months of this year and the government's implementation of radical investment and stimulus packages to curb the economic decline.
An pointed out that as a newly emerging economy in a transitional period, Vietnam has only had its commodities market affected by the global economic crisis whilst in other countries it was the financial markets that were the most affected.
" Vietnam is in the right condition to get out of this crisis before other countries," An argued, noting that "at the moment, Vietnam 's economic decline was bottoming out and it is time for it to start improving."
However, the CIEM president still warned of factors that could badly affect the nation's GDP growth, naming fluctuations in the global economy and the ability of the government as well as businesses to perform accordingly.
In its three suggested scenarios, the CIEM predicted that the budget deficit and inflation rate will fluctuate between 8.2-9.4 percent, lower than in 2008.
However it is forecasting a huge trade deficit for this year, which will not be addressed in the short-term.
At its April meeting, the Government proposed adjusting the growth rate of GDP for 2009 down to 5.5 percent from 6.5 percent./.