Retailers in Ho Chi Minh City have reaped big profits in the first three days of September, a traditional month for sales promotions, with supermarket sales in particular up by 20-50 percent.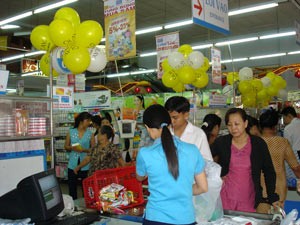 Consumers flock to a supermarket to buy discounted items (Photo: Hoang Yen)

Vissan's ten-percent price cut has netted big gains in sales of bacon, pork pies and sausages and yielded a 20-30 percent increase in sales for the corporation.

Supermarkets are the keenest advertisers, especially the Co-opMart chain, and have knocked down the prices of 1,600 items.

Ms. Nguyen Thi Thu Thuy, who runs the big Co-opMart in Nguyen Dinh Chieu Street, says her store's daily sales are up by 50 percent compared to normal times and 30 percent higher than a year ago.

Unsurprisingly, the fast movers at Co-opMart are the most heavily discounted items, merchandise like Happycook cooking utensils, Tuong An cooking oil and Lien Thanh fish sauce.

Other Co-opMart stores are reporting a 20 percent rise in sales.

Despite all the promotional campaigns this month, the more traditional markets are having a hard time attracting shoppers because of the bad weather and unstable prices.

Shopping centers are also failing to draw more customers, even with prices marked down by up to 50 percent, as is the case at most shops in Saigon Center.