Steel manufacturers have asked for authorities' supports as Vietnam's steel inventory level is soaring on slow consumption.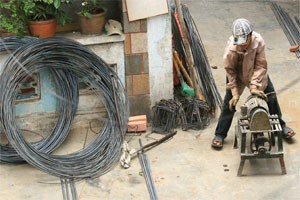 Many steel makers have to reduce operation due to slumping sales this year (Photo: Minh Tri)
Pomina, one of Vietnam's largest steel makers, announces that it had to reduce operation by 50 percent due to a slumping demand.
Another steel giant VNSteel has followed a similar pattern since its sales plummeted by 50 percent in the last three months of the year, an marketing employee, who asks to be anonymous, told Dau Tu Tai Chinh Newspaper.
Steel shops, meanwhile, are suffering a quiet trading period. Nguyen Van Lam, director of Ho Chi Minh City-based steel trader Hoang Hung, says sales in the last three months plummeted over 60 percent on a plunging construction demand.
The Vietnam Steel Association (VSA) says many small steel manufacturers have to reduce 60-70 percent of their operation, while some others even had to shut down.
Figures from VSA show the country's steel fabrication output increased by 14 percent year-on-year to around 2.2 million tons in the first five months of 2011.
In May, finished steel inventory amounted to about 320,000 tons, while steel ingot inventory reached 520,000 tons. The total amount of imported steel topped 3 million tons.
The consumption in the first five months increased only 18 percent year-on-year to 2.1 million tons, according to VSA.
"The inventory combined with the imported amount is enough for the third quarter's manufacture of steel makers nationwide," says a steel manufacturer director.
Representatives from Pomina and VNSteel say the demand dropped on a surging inflation, increasing interest rates and sharp reduction in public spending.
Exporters ask for preferential tax rates
Pomina general director Do Duy Thai says export turnover at neighboring markets including Laos and Cambodia is dropping as local exporters are struggling to compete with foreign opponents, which offer better prices.
Vietnam's steel export price is also compounded by the local output reduction and high interest rate.
"The competitiveness of Vietnamese steel exporters is very low compared to their foreign opponents as they offer small amounts only and they get no preferential tax rates," says Thai.
The Ministry of Industry and Trade has proposed to adjust the export tax rates on steel to 1.5-3 percent as steel makers consume huge amount of power, according to VSA.
Local steel manufacturers should be exempted from export taxes, otherwise the country will suffer a significantly high inventory level, says VSA chairman Pham Chi Cuong.
VSA also calls for the government's supports for steel export in order to reduce trade deficit. Vietnam's steel trade gap reached US$6 billion last year.
Statistics show steel export turnover amounted to around $880 million in the first two quarters of the year. Among Vietnam's key foreign markets are Cambodia, Malaysia, Indonesia, China, India, Korea, Thailand, Laos and Australia.