Participating businesses of the government's price stabilization program have asked to raise price of the state-subsidized goods since they incurred losses.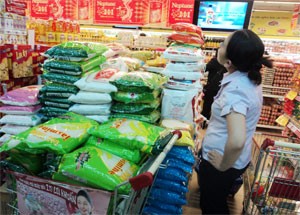 Shoppers buy state-subsidized products at a HCMC-based supermarket. Many participating firms of the price stabilization programs say they suffer heavy losses from this year increasing input cost (Photo: Minh Tri)
Many participating firms say they have had to cope with constantly soaring input costs since they started to attend the program early this year.
Most of them incurred heavy losses as they still had to keep their price cheaper than the market price by 10 percent.
Pham Thi Huan, director of food supplier Ba Huan, says the firm participates in the program in an effort to restore consumption prices. However, it had to deal with many unexpected issues, Huan said.
"Chinese moon cake bakers are buying raw eggs and poultry heavily, leaving us with severe shortage of materials," she said.
"Therefore, if the city authorities still keep the price unchanged, we will definitely suffer big losses."
Last month, Ba Huan asked the Ho Chi Minh City Department of Finance twice to increase price of state-subsidized goods, but the department turned it down, says the director.
Tran Tan An, deputy general director of food producer Vissan, says the company provides pork for the program at the price of VND82,000-89,000 (US$4.45) per kilogram, which is much lower than the market price of VND110,000-120,000.
"Every kilogram that Vissan offered to the program incurs a loss of VND10,000. The company loses about VND200 million ($10,000) every day," says An.
Pork price is expected to move up on the slumping supply and increasing input cost, which are caused by a rapid spread of swine flu, he warns.
"Under the program, participating firms are required to sell products at the price, which is 10 percent cheaper than the market price," says Vissan general director Van Duc Muoi.
"However, material costs increase by 15 percent, pushing the net price up to 20-25 percent at least."
Muoi also adds that the program is meant to stabilize the consumption price, not to leave businesses suffering losses.
Dao Thi Huong Lan, director of the HCMC Department of Finance, said "regulations of the price stabilization program state that participating companies can propose to raise their price only if the input cost increases by more than 15 percent."
"The actual input cost, however, has not increased by that much so far, thus the department turned businesses' proposals down."
Lan says the department is still considering on supporting participating firms to cope with the increasing input cost.
The price stabilization program has participating firms sell essential goods at prices 10 percent lower than prevailing market rates in return for incentives like interest-free loans to stock the listed goods.
Under their price stabilization programs this year, Hanoi and Ho Chi Minh City have so far spent VND400 billion ($19 million), and VND380 billion ($18.1 million), respectively.
The money is mostly given as interest free loans to 28 participating businesses so they can stock and sell rice, meat, seafood, processed food, eggs, cooking oil, sugar and vegetables, at prices lower than in the market.