State-owned enterprises are investing in areas in which they are not strong, Deputy Prime Minister Nguyen Sinh Hung told a conference on state-owned enterprises in Ha Noi Wednesday.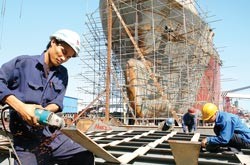 Workers of the Viet Nam Shipbuilding Industry Corporation (Vinashin)
This problem has given many officials and economic experts "headaches," he said. By investing in finance, banking, stocks, and real estate, these enterprises have dispersed their resources and badly affected the national economy, he added.

When a state-owned corporation takes control of a bank and uses it to support its expansion plans, it tends to misuse loans and neglect proper monitoring and risk analysis.

The establishment of banks by state-owned corporations and groups tends to support ineffective projects, Mr. Truong Dinh Tuyen, a former minister of trade, once told Sai Gon Giai Phong. This has occurred in many nations and Viet Nam should avoid this practice, he added.

At the end of last year, state-owned corporations and groups had invested over VND15 trillion (US$926 million) in banking, finance, and real estate, according to the Department of Business Renewal and Development.
The Ministry of Finance said state-owned corporations and groups had a total capitalization of VND117 trillion (US$7.2 billion). Twenty-eight out of 70 companies invested VND23.3 trillion (US$1.4 billion) in stocks, banking and insurance.

The Viet Nam Shipbuilding Industry Corporation (Vinashin) invested over VND3.3 trillion in stocks, banking, insurance and real estate, 1.1 times its registered capital.

"That means Vinashin used bank loans for financial investment," a report by the Ministry of Trade concluded.

In response, the leaders of the state-owned enterprises said that the government should facilitate their investments so that they can have enough capital for business.

"Heavy industry projects can show a profit within three to five years," said Mr. Pham Thanh Binh, chief executive of Vinashin. "During that time we have to invest in other areas so that we will have enough money for such projects."

"We only invest in the areas that will bring benefit to the whole economy, so the government should allow us to do this," said Mr. Dao Van Hung, chief executive of Electricity of Vietnam.

Concerning the equitization of state-owned enterprises, Deputy Prime Minister Hung asked relevant agencies to speed up industry restructuring in order to achieve the country's development targets.

The government has no plan to equitize state-owned agricultural and forestry agencies, but will transform them into companies, he said.

Stressing the need to protect the interests of laborers, Mr. Hung said the government has authorized the State Capital Investment Corporation to represent the state's ownership share in commercial groups and corporations.

According to the Steering Board for Business Renewal and Development, 1,553 state-owned businesses will be restructured in 2007-10. Of these, 950 will be equitized.