State-owned businesses need to contribute more to stabilising the macro-economy, maintaining growth and curbing inflation to achieve this year's growth target of 6.5 percent, said a government leader.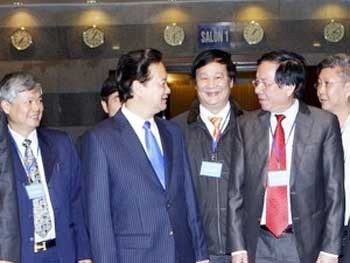 PM Nguyen Tan Dung (2nd L) meets representatives of state-owned groups and corporations at a meeting held in Hanoi on March 10 to discuss solutions to implement their development plans this year ( Photo: VNA)
Prime Minister Nguyen Tan Dung delivered this request while chairing a session in Hanoi on March 10 between the cabinet and state-owned groups and corporations on tasks and solutions to implement the plans set for 2010.
To reach these targets, PM Dung suggested state-owned enterprises re-examine their production and business plans and deploy projects on schedule, shooting for an annual average growth rate of 10 percent.
The government will create favourable conditions in terms of procedures for businesses to carry out projects effectively, the PM said, noting that as soon as each power, cement or fertiliser plant goes on line, they begin to contribute to raising the nation's output and its GDP and to generating more jobs for workers.
To rein in inflation, the leader urged the state-owned sector to make specific calculations so as to prevent speculation in goods.
Regarding social security, PM Dung called upon the economic giants to step up production and business activities, increase the income of workers, and support the country's 62 poorest districts in socio-economic development.
He took this occasion to applaud the efforts of the state-owned sector in observing the Party and government's guidelines and thus contributing to the nation's general socio-economic achievements in 2009.
Despite various difficulties and challenges, Vietnam managed to record a growth rate of 5.32 percent, and state-owned groups and corporations made up 42 percent of the nation's GDP, the PM elaborated.
However, PM Dung also pointed out weaknesses and shortcomings faced by such businesses, citing their low productivity, weak competitiveness, scattered investments and limited application of scientific and technological advances.