According to a recent review of the People's Committee of Ho Chi Minh City (HCMC) on the five-year work of restructuring and renovation of State-owned enterprises (SOEs), despite some weaknesses, it is recognized that equitization is the basic solution for the restructuring of SOEs. It reduces the number of SOEs and brings key economic sectors and fields into sharp focus. 
273 SOEs restructured – VND878.9 billion mobilized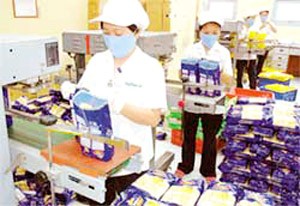 Food processing joint-stock corporation Safoco under the Food Company of Ho Chi Minh City.
A rather complete and straight report on the achievements and the weaknesses in the restructuring process of HCMC's Steering Committee for Enterprise Reform and Management has drawn much public attention.
The public are caring about the results because recently some arising post-equitization problems had to be brought to court. It is worried that the disputes among shareholders, between shareholders and board of management will continue.
Although some SOEs equitized recently did not have a strong brand name, their stock prices were increasing thanks to the advantages in their premises. Consequently, their workers could not afford to buy stocks at a preferential price of 40% discount, so they have to sell the preferentially-priced stocks to big investors at cheap prices.
In the past five years (2001-2005), 273 SOEs of the city were restructured. Among them, 174 were equitized, 11 transformed into one-member limited liability companies, one into independent state-owned company, 45 merged, 16 dissolved, one going bankrupt, two handed over and 14 re-structured into the parent-subsidiary model.
Standing Vice Chairman of the People's Committee Nguyen Thien Nhan said the restructuring process has changed the SOEs basically. Accordingly, the city directly manages only 17 state-owned production and trading corporations and companies.
Especially, the process of restructuring SOEs also helps organize finance and labor resources so that enterprises can keep back the state capital or diversify their ownership wholesomely, creating a dynamic management mechanism for SOEs to equally compete with enterprises of other economic sectors.
Such changes are very important for SOEs to timely build their brand names and strengthen their management capability when Viet Nam enters the World Trade Organization (WTO).
Equitization is a basic solution
Also, the Committee considered equitization as the most important solution in restructuring and reforming SOEs. 
 
As many as 238 SOEs were equitized in the past five years. Their average charter capitals were VND12.7 billion and VND20 billion before and after equitization, respectively.
Equitization is a basic solution for restructuring SOEs because it not only reduces the number of SOEs but also facilitates a focus on key economic sectors and fields.
With the equitization of SOEs, the city mobilized VND878.9 billion from the public for business and investment. The government also got VND2,609 billion to invest in other enterprises. Equitized companies issued more stocks and increased their charter capitals to VND337 billion and their stocks could be traded easily on the stock market.
However, Mr. Tran Ngoc Phuong, Standing Deputy Head of HCMC's Steering Committee for Enterprise Reform and Management, said when accessing their value and selling stocks, many enterprises depended so much on the area of their given real estates.
On the other hand, equitzed SOEs were smallscale; their small charter capitals limited their investment in new technology and equipment, especially in the sectors of construction and real estates. In the long term, they will have difficulties competing with big international business groups.
In addition, there have been still many problems in administration and operation of equitized companies. After equitization, many enterprises have still had be controlled with the regulations for SOEs.
Shareholders did not use all of their rights or abused their roles and rights so much; the government agency in charge of receiving and solving problems, supplying information, communicating the policies to enterprises has not been determined yet. 
Establishment of strong conglomerates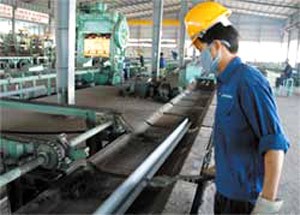 Steel company Vitasteel under the Investment and Construction Company 579.
Mr. Nhan was very pleased with the idea of Mr. Nguyen Vinh Tho, Deputy General Director of Sai Gon General Service Corporation (Savico) that previously superiors urged juniors to operate. After equitization, the enterprise's development itself and the pressure of shareholders force the directors to work.
Mr. Nhan said that there might be currently some worries about equitization. However, the achievements of equitized enterprises prove that equitization is an indispensable tendency and must be done for the international economic integration of enterprises when Viet Nam enters WTO.
In his opinion, in the next three years, the process of restructuring and renovating SOEs will produce more specific and better efficiency. The rest are improving enterprise administrative management and developing trade name so that enterprises can develop in both scale and quality.
Some enterprises in development will indispensably need to cooperate in a new scale, forming big economic conglomerates. 
 
Immediate task is fulfilling quickly the plan of restructuring and renovating SOEs of the city according to Decision 131/2005/QD-TTg enacted by the Prime Minister.
The city, therefore, will continue to speed up the restructuring of SOEs, expand the equitization of SOEs, including current parent and subsidiary companies.
The People's Committee of HCMC will make a plan and sell the state's capitals of enterprises at which the state does not need to hold controlling stake; co-ordinate with the Securities Trading Centers to list equitized enterprises on the stock markets; improve administrative procedures, in which the procedures of handing over fixed assets in the transformation of SOEs into one-member limited liability company will be reviewed.
It is an urgent need for SOEs to transform their business model according to the Enterprise Law. SOEs established under the Stated-owned Enterprise Law 2003 have to be transformed into limited liability or joint-stock companies within the next four years.
Detailed Plan of the Restructuring of SOEs in 2006

A total 62 SOEs will be re-structured and equitized.
Among them, equitisation: 34, one-member limited liability company: 17, profitable administrative unit: 4, auction sale: 1, bidding sale: 1, partnership: 1, mergence: 2, bankruptcy: 2.
Six SOEs, among which are four companies under Sai Gon Real Estate Corporation, will be listed on the securities trading centers.