Despite a price increase on July 21, the domestic petrol still costs VND5,000 less than that in Cambodia, which is about US$1.5 per liter. Therefore, petrol is still been smuggled across the border.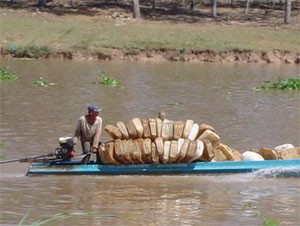 A smugglers transfers empty can from Kirivong of Cambodia to Vinh Te Canal of An Giang Province (Photo: Tuoi Tre Newspaper)
While most smugglers operate at night, some still work in the day. Those smugglers take gasoline on every trip in a truck and cover their petrol cans with canvas.
 
Others chose seaborne smuggling. They tied nylon bags full of petrol to their bottoms of their boats.
 
The terrain at the border is too complicated to control, according to police responsible for breaking up smuggling rings. Moreover, when a flood appeared and turned land on both sides of the border to a sea, the smugglers boats could escape the control of police more easily.
 
The prosecutor's office has approved a complaint against an accused smuggler named Duong La for resisting an inspection by customs officer Hoang Van Trung on July 24, according to Senior Lieutenant-Colonel Mr. Tran Van Can of the Ha Tien Commune.
 
Related article:
Crackdown Needed to Halt Petrol Smuggling, PM Says