Domestic small- and medium-sized enterprises (SMEs) would enjoy many benefits from the Trans-Pacific Partnership (TPP) and Viet Nam-EU Free Trade Agreement (EVFTA), said economist Pham Chi Lan.
Lan told a conference on TPP and EVFTA held in Ha Noi yesterday that SMEs would be facilitated in trade liberalisation and connection in the region while expanding their global value chain as well as maximising competitive advantages.
Tariff barriers relating to export items will be removed, resulting in lower import costs and more diversified supply. In addition, Vietnamese enterprises will have a fair playing field both inside and outside the country, which could help protect investors.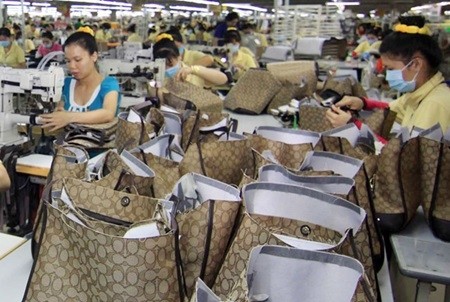 Workers at Simone Viet Nam TG Limited Company in Tan Huong Industrial Zone in the Mekong Delta province of Tien Giang make bags for export. Small- and medium-sized enterprises will enjoy many benefits from the TPP and Viet Nam-EU Free Trade Agreement. — VNA/VNS Photo Vu Sinh
According to the Viet Nam Trade Promotion Agency under the Ministry of Industry and Trade, the TPP will have clear impacts on the economy as the country's GDP, which could increase by 11 per cent while exports could be 28 per cent higher. Export turnover of key products such as garment and textile, leather shoes and seafood could surge in the next 10 years.
After EVFTA comes into effect, 99 export tariffs from Viet Nam to the markets of 500 million people would be removed in the next 7 to 10 years. The agreement is expected to grow Viet Nam's annual export turnover by four to six per cent.
Howver, the TPP and EVFTA would also pose challenges for businesses. The tariff cuts could make imported goods flood Viet Nam with cheaper prices.
This could make local enterprises face with fierce competition. On the other hand, goods exports would have to meet strict requirements for certificate of origin (C/O), anti-dumping issues, subsidiaries and trade defence tools, the agency said.
Claudio Dordi, the technical assistance team leader of the European Trade Policy and Investment Support Project (EU-MUTRAP) pointed out that Vietnamese enterprises should focus on C/O principles for garment and textile products, thus increasing added-value. The businesses should also improve the quality and safety of their products, following international hygiene, especially those from EU.
He proposed that the Government should provide clear information to companies on deadlines and detail of the EVFTA as well as other trade pacts.
In addition, Viet Nam should have a clear strategy at the national and local levels to promote quality management and building brand names.
Big firms optimistic too
The annual report on Viet Nam's economy 2016 released by Viet Nam Report Company showed that big local companies are optimistic about the impact of the TPP.
The survey collected ideas from more than 1,000 big companies nationwide.
With the expected economic growth rate of 6.7 per cent and CPI of less than five per cent, nearly a half of surveyed firms felt optimistic about their business in the first quarter of 2016 and the next five years.