A severe shortage of materials caused by a strong buying from foreign traders has sent consumer prices soaring, say businesses.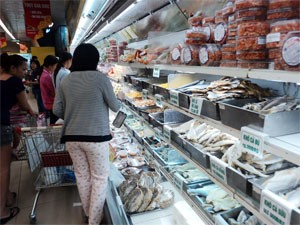 Local businesses are in a severe shortage of materials, which caused by a strong buying from foreign traders (Photo: Minh Tri)
Figures from the Vietnam Association of Seafood Exporters and Producers show 40 percent of shrimp processing plants are at risk of being shut down due to a shortage of materials.
The shortage also leaves seafood exporters losing many orders and struggling to expand their business.
"The issue came after local dealers bought materials heavily from farmers and sell all to Chinese traders, who were eager to buy at high prices," a director of a seafood company told Dau Tu Tai Chinh Newspaper.
"We have to reduce operation, hesitate to receive orders from foreign partners and have not planned on seeking new markets."
Agricultural product suppliers, meanwhile, cope with a different problem. They have stocked up materials since early this year to gear up their business expansion plans.
However, a slumping consumption in the second quarter forced many of them to sell materials to foreign counterparts heavily.
They were then made to pay for that as they did not have enough materials for an increasing amount of orders in the third quarter.
"In May and June, we had to sell 7,000 tons of pepper to a foreign firm at low prices as we received no order and the inventory level was too high," says Le Thanh Viet, general director of agricultural product supplier Thanh Binh.
"But then we had to say no to some big orders coming up last month. We worry that we will lose customers after refusing them."
The severe shortage of materials is expected to push up the country's consumer price, which
Inflation accelerated for the 11th straight month in July as consumer prices rose 22.16 percent from a year earlier, compared with June's 20.82 percent growth, according to the General Statistics Office.
"Cost of unprocessed raw wood has soared since local traders bought heavily to produce round wood and sawn timber early this year, which were then exported at low price of around US$300 per cubic meter," says Nguyen Chien Thang, chairman of the HCMC Handicraft and Wood Industry Association.
"It is a big waste as finished wood, meanwhile, can be sold at $1,500-2,000 per cubic meter."
To curb the issue, Prime Minister Nguyen Tan Dung has instructed the Ministry of Industry and Trade to set up measures on beefing up domestic production and supervising import-export.