Vietnam's consumer price index (CPI) of September will rise by one percent above August, according to the prediction of statistics experts.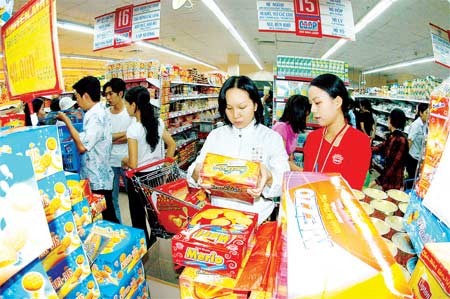 Shoppers at a supermarket in HCMC (Photo: SGGP)
CPI in the two biggest cities saw a month-on-month increase in this month, with Ho Chi Minh City's CPI inched up by 0.96 percent while Hanoi saw it rose by 0.97 percent.
The increase has been the result of recent price hikes in rice, foods, steel and school fees.
Increased purchase of rice by local exporters has pushed up the price of rice in southern provinces.
 
The domestic steel price has climbed by VND150-300 per kilogram due to a hike in the global steel ingot price. 
 
The increase has also been attributed to a 2.09 percent downward adjustment of the dong/dollar exchange rate by the State Bank of Vietnam in August.
 
Following the new rate, many gas, steel and drug stores have raised their prices.
 
However, the biggest price increase has been seen in education, soaring 5.57 percent and 7.17 percent in HCMC and Hanoi respectively as all schools reopen after the summer vacation, pushing demands for books, stationary and clothes.