This year's credit crunchstarted to result in impacts to property firms with weak base, which were forcedto sell their projects or acquired by bigger ones.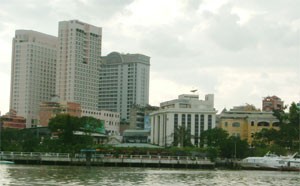 A corner of HCMC. Manybusinesses paid deadly for their property investments as the market turned sourdue to this year's credit squeeze (Photo: MinhTri)
"Many builders have rushed to carry out more construction projects on luxuryapartment block since they took big profits from previous ones earlier," said areal estate broker in Ho Chi Minh City.
"Businesses in other sectors havealso pumped money into property project since they were attracted by theirsignificantly high profit margin.
"However, most of them paid deadlyfor their property investments as the market turned sour due to this year'scredit squeeze."
On March 1, the State Bank ofVietnam ordered all lenders to limit credit to non-production businesses,including real estate projects, at 22 percent of total loans by June 30, and at16 percent by the end of the year.
The government in February approveda plan to cut annual credit growth to below 20 percent from the initial targetof 23 percent as part of a series of measures to curb inflation.
HCMC-based property firm Phat Datcarried out the luxury apartment block Everich II with more than 1,000apartments in District 7 in HCMC soon after it gained positive sales of theEverich I in District 10.
However, at this year's annualgeneral meeting, the firm announced that only 166 apartments of the Everich IIwere sold due to the stagnant market.
Le Phuoc Vu, chairman of buildingmaterial supplier Hoa Sen Group, told Dau Tu Tai Chinh Newspaper earlier thathis company would focus on real estate sector, but then changed his mind aftersuffering heavy losses.
Hoa Sen Group announced at aextraordinary general meeting that it would sell series of property projectsincluding Hoa Sen Phuoc Long and Hoa Sen Riverside apartment blocks in District9 and transfer land use of a property at No. 123 Tran Nao Street in District2.
"Property prices have risen wellbeyond their true value on speculation. Therefore many property firms sufferedplunging sales as the market was getting gloomy," said Le Hoang Quan, chairmanof the HCMC People's Committee.
Many businesses, who rushed toinvest in property projects, are now struggling to find buyers, Quannoticed.
Three scenarios forproperty market this year
Dr. Tran Kim Chung of the CentralInstitute for Economic Management expects there will be three main scenarios forthe real estate market this year.
In the first scenario, he assumedthat as the government keeps the tight monetary policy unchanged and the globaleconomy treads water, local property market will grapple to rally due to acapital shortage and high lending rates.
Chung expects in the secondscenario that property firms will likely to be acquired or go bankrupt if thegovernment still tightens credit growth and the inflation continues tosoar.
The last scenario supposes that themarket will roar back as if the monetary policy is loosened.
The Ministry of Construction hasasked the central bank to consider on allowing lenders to loan some specifickinds of property projects.