Vietnam's rice exports have met with a lot of difficulties since last year because supply has exceeded demand in the world market.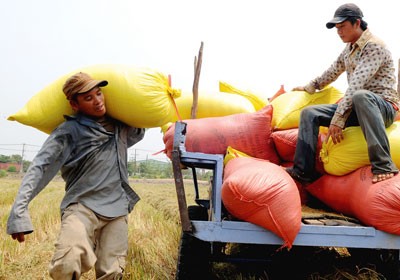 Rice being harvested in Hoc Mon District in HCMC (Photo: SGGP)
In previous years, Vietnam got government-level contracts with countries like Indonesia and Malaysia to export millions of tons of rice annually.
After limiting production of the third rice crop--the autumn-winter crop, which falls during the flooding season, the Government encouraged farmers to broaden cultivation thanks to the new dyke system.
However the expansion has now caused much consumption pressure for rice growers because the market demand has narrowed.
According to the Food and Agriculture Organization, Indonesia's rice output will continue to hit a second consecutive record this year with 72 million tons, an increase of 4.4 percent over last year.
As a result, Vietnam Food Association said that it is unlikely that Vietnam can export a considerable volume of rice to this market this year.
The Philippines Government is also confident that they can be self-sufficient in food by the end of this year.
Meantime, African nations are showing no hurry to import rice as they did in previous years due to an abundant supply and instability in price, which is likely to further decrease.
 
At present, Thailand has about 17 million tons of rice in stock. This number is likely to further hike when they enter the main harvest of crop in November this year, which will provide another 15 million tons of rice.
Rice inventory in India reached 35.5 million tons at beginning of April. India's rice output is forecast to touch 110 million tons this year, which is expected to further affect Vietnam's rice exports.
Related article:
Rice exports target reducing inventory in May, June