The real estate market consultancy CB Richard Ellis or CBRE says in a report that retail space in Hanoi was booming in the first six months of the year.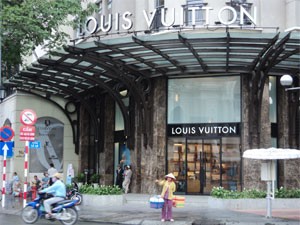 Retail space demand in downtown of big cities including Hanoi and HCMC remains high despite the bearish property market (Photo: Minh Tri)
The area of retail space in the capital city increased nearly 31 percent, an equivalent of 129,300 square meters thanks to the debut of Pico Mall and the expansion of the Parkson Viet Tower.
The two shopping centers, which are both located in Dong Da District, contributed nearly 25,000 square meters to the total retail space area in Hanoi.
CBRE expects the capital's retail space supply will soar on the debut of the shopping mall Hang Da Galleria in Hoan Kiem District, Landmark 72 in Cau Giay District, Savico Mega Mall and Vincom Center Long Bien in Long Bien District.
The total area of those shopping malls is expected to reach 206,400 square meters.
Despite the profuse supply, retail space rent in Hanoi is on a rise, increasing around 8 percent year-on-year to US$47 per square meter.
Survey conducted by another property market consultancy Savills Vietnam show the rent in Ho Chi Minh City followed a similar pattern in the second quarter, rising 5.8 percent to $109.35 per square meter.
There are 93 shopping centers with the total area of 630,000 square meters in HCMC, which is expected to extend by 500,000 square meters at yearend, according to Savills Vietnam.
The UK-based property consultancy predicts retail space demand in downtown of the southern hub looks set to soar on the fact that many foreign retailers are planning to enter the city.
Analysts say the demand is very high as the ratio of retail space per person in 24 districts of HCMC remains low.
CBRE Vietnam general director Marc Townsend says retail space area in downtown rose 10-15 percent from last year, making up 41 percent of the total area in the city.
Demand for retail space in downtown remains high in spite of expensive rent as the center areas of the town is very good for business, according to Townsend.
Vu Minh Phu, chairman of the Hanoi Supermarket Association, says a lucrative shopping mall requires a reasonable rent, attractive place for visitors and good customer services.
While retail spaces in downtown of cities are completely occupied, ones in suburb areas struggle to attract leaser.
The shopping center Grand Plaza in Hanoi's Cau Giay District has just a few visitors daily after having opened for one year. Thus retailers hesitate to rent spaces at the mall despite its low monthly rent of $30-80 per square meter.
Efforts to attract customers have seen owners of the mall release many promotion packs, such as 50 percent rent reduction for the first year, 40 percent reduction for the second year and 30 percent for the third.