Property companies nationwide geared up their operations right after the Tet (Lunar New Year) holiday, accompanied by high expectations of market recovery this year.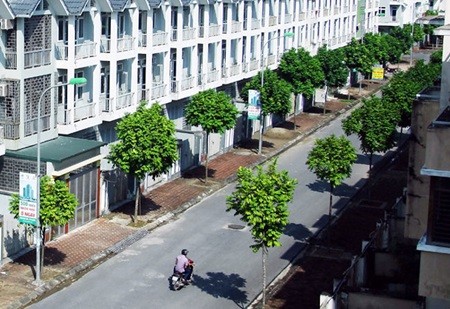 Terraced houses in Xuan Phuong Urban Area in Ha Noi's Hoai Duc District. Demand for high-end apartments is expected to grow this year now that the Government allows foreigners to buy houses. — VNA/VNS Photo Tuan Anh
This is different from the previous years, when transactions were often quiet in the month following Tet, reflecting the high hopes of property companies after a long freeze.
According to statistics of the Viet Nam Real Estate Association, 1,550 successful property transactions were recorded in January, the month before the Tet holiday, three times higher than the same period last year.
With credit policies being eased and new policies such as allowing foreigners to own houses in the country about to come into force, property developers are aiming for higher targets this year.
Novaland Company says that it expects the property market to thrive this year, adding that the company's sales are projected to increase by more than 30 per cent against last year, online newspaper Vnexpress reports.
FLC Group says that its profit this year might reach VND1 trillion (US$46.94 million), more than double that of last year.
Property giant Vingroup aims to maintain a high growth rate in 2015, after reporting a 51 per cent growth in turnover in 2014 over the previous year.
Several projects in the country's major cities also resumed construction after the nine-day Tet holiday, to speed up progress and to take advantage of the market recovery.
Nguyen Xuan Quang, chairman of the Nam Long Investment Corporation, says the prospects of the property market will be bright this year. As a result, several property companies have set targets for higher turnovers and profits than the previous years.
Quang adds that the macroeconomy has shown positive signs, such as a growing GDP, lower interest rates and abundant remittances, which will stimulate the property market towards recovery after a long freeze since 2007. He points out that the confidence of investors and buyers returned with many projects resuming construction right after the Tet holiday, with a higher supply of apartments and booming mergers and acquisitions.
Still, low-priced apartments will remain the dominant market demand this year, while the demand for high-end apartments will rise, thanks to the government's policy of allowing foreigners to buy houses in the country, he says.
However, Huynh Phuoc Nghia, an expert from the Global Integration Business Consultants, says that property companies should be cautious about their business plans this year. He points out that although the market has shown signs of recovery, it will be difficult to return to the peak of 2007, adding that the maximum profit growth should be expected at 15 to 20 per cent.
Nghia says that competition will grow harsh this year, weak companies will be eliminated and chances will be better for companies that have prestige and offer good services and good quality.
Nghia lists the three kinds of property that will be the most attractive for investors this year, thanks to stable and high profits, as being industrial zones, medium and high-end apartments and tourism property projects.
Driving market recovery
According to a report by Ban Viet Securities (VCSC), the easing of the credit policy, the policy to allow foreigners to buy houses in the country and the development of the infrastructure system will be the drivers for the property market's recovery this year.
VCSC says it is a good time to buy houses or invest in the property market as the interest rates are at their lowest in three years, adding that the low rates will encourage cash to flow into the property market rather than deposits.
With about 80,000 foreigners currently working in Viet Nam, the policy to allow foreigners to buy houses in the country will heat up the property market.
Infrastructure development also largely supports the development of the property market, VCSC says, adding that the government's speeding up of infrastructure development is expected to be worth more than $3 billion this year.
Minister of Construction Trinh Dinh Dung has said that this year, the ministry will focus on restructuring property products, especially housing projects, to meet the market demand, and ensure a healthy and sustainable development.