Sales of the apartment block Canh Vien 3 in District 7's residential zone Phu My Hung are very slow despite its reasonable cost of VND40 million per square meter.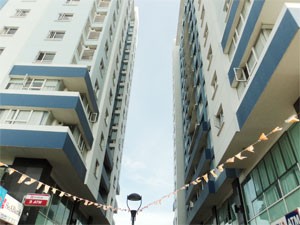 Property experts warn that there will be an abundance of houses and apartments in HCMC this year (Photo: Minh Tri)
Many property experts and brokers are startled by the slowing sales as Phu My Hung's real estate used to be the top pick.
Construction at the luxury apartment building Kenton in the outlying district of Nha Be kicked off in 2007, when the property market was booming.
It is expected to have six blocks with 1,600 apartments.
However, while sales of two blocks with small apartments remain positive, builders stop selling the rest due to a stagnant market this year, a salesman of the building discloses to Sai Gon Giai Phong Newspaper.
Building material giant Hoa Sen Group had to hold an extraordinary general meeting in June to seek approvals for selling series of its property projects.
They comprise of the apartment block Hoa Sen Phuoc Long B and Hoa Sen Riverview in District 9 and a land on Tran Nao Street in District 2.
As the market is not "as good as expected", the group had to stop investing in property investments and focused on its core businesses, says chairman Le Phuoc Vu.
Figures from the real estate market consultancy CB Richard Ellis Vietnam or CBRE indicate that more than 50 apartment block projects with about 22,000 apartments made debut in Ho Chi Minh City at the end of last year.
Yet only around 50 percent of them have been occupied.
Only 30-40 percent of many projects have been sold due to weak buying, according to another market consultancy Vietrees.
Statistics from the HCMC People's Committee show nearly 37,000 houses were built in the first half of the year.
Five property projects, meanwhile, contribute more than 1,800 apartments in the city, according to the committee.
Property experts warn that there will be an abundance of houses and apartments in HCMC this year.
"Property enterprises look set to remain in very difficult time in the second half. Some may go bankrupt," says Le Hoang Chau, chairman of the HCMC Real Estate Association.
Bad debt level in the city's property sector increased to 4 percent in May from 2.5 percent in January, according to the state bank's HCMC branch.
Many officials, however, have made opinions that are different from the market's move.
Dr. Le Xuan Nghia, vice chairman of the National Financial Supervisory Commission, says property price remains expensive and keeps soaring due to population boom and a shortage of lands.
Construction deputy minister Nguyen Tran Nam expects that the country will build a further one billion more square meters of housing in the next ten years.
Apartment sales, meanwhile, remains dramatically slow due to the government's tight monetary policy, analysts say.
Therefore, property firms will still struggle to sell apartments even if they reduce the price by 30 percent, they say.
"Interest rate is expected to drop to 12-13 percent per annum by 2013," Nghia says.
"The property market will stabilize at that time."