A conference between Prime Minister Nguyen Tan Dung and representatives of the businesses nationwide opened in Hanoi on April 28, aiming to seek ways to deal with difficulties faced by enterprises.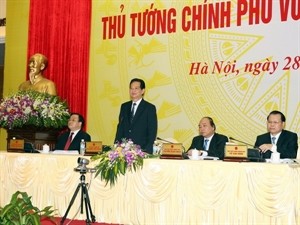 Prime Minister Nguyen Tan Dung chairs the conference (Source: VNA)
Deputy PMs Nguyen Xuan Phuc, Hoang Trung Hai and Vu Van Ninh joined leaders of several ministries at the conference.
Opening the event, PM Dung said that the conference aims to assess business development and identify obstacles to success, so that the Government can introduce measures enabling companies to thrive, thus benefitting the national economy.
According to a business report, during 2011-2013 there were 224,000 newly-established enterprises.
In the first quarter of this year, more than 18,000 businesses registered for establishment with a total capital of 98 trillion VND (4.6 billion USD), up 17 percent in number and 23 percent in value from the same period last year.
However, difficulties forced nearly 17,000 others to dissolve or temporarily stop operations in the period, representing a year-on-year rise of 9.6 percent.
The private sector contributes most to the country's GDP. From 2009 to 2012 it contributed 48-49 percent, followed by the public sector (over 30 percent) and the FDI sector (17-18 percent).