Many tra fish breeders have been tired of years-long loss, abandoned their ponds and showed no signs of resuming production despite of recent price increase ensuring their profit in the Mekong Delta.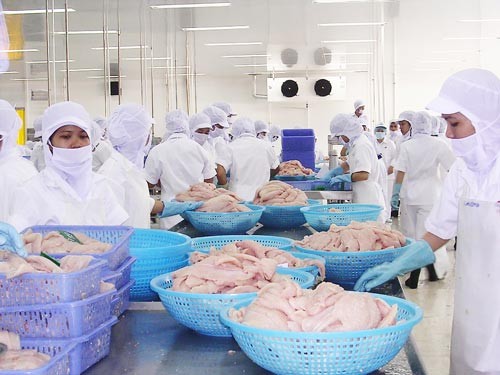 A tra fish processing plant in the Mekong Delta (Photo: SGGP)
Tra fish prices have kept increasing to reach VND22,000-23,000 a kilogram for the last couples of days, the highest and profitable level this year so far.
However farmers have seemed to be weary of this career because of price instability, which might rocket up or drop down in the next few days or whenever. This has resulted in a year on year output drop of 17 percent in the first two months this year.
Mr. Vo Van De, having bred tra fish for 16 years in Can Tho city, said that in the past farmers rushed to get loans to expand farming when the price went up. At present, they have been tired of the situation of 'bumper crop, price drop.'
In addition, many businesses have fallen in difficulties and been unable to make payment or paid farmers off in dribs and drabs.
Over ten years back, tra fish processing plants rapidly sprouted in the Mekong Delta. People from many fields rushed to build plants with banks' capital assistance policy and without professional skills and knowledge of the seafood industry.
Shortly after, many got deeper and deeper into debts and were unable to pay for their orders. The number of shut down ones have been increasing as the time of development by the movement has ended.
Mr. Nguyen Van Dao, director general of Go Dang Seafood Company, said that tra fish fillet demand from European and Asian markets has risen recently. Export prices to these two markets have approximated US$2.2-2.4 a kilogram. The price has been higher reaching $2.7 to the US market.
Despite the export market's recovery, he advised farmers not to broaden farming areas to avoid risks from price instability and urged authorized agencies to restructure the tra fish industry.
Deputy chairman of the An Giang Seafood Farming and Processing Association proposed authorized agencies to review the status of processing plants in the Mekong Delta, make clear how many have well performed and have not and find suitable measures for each plant.
It is necessary to reduce the number of underperformance businesses, encourage those with advanced technologies and high added value products to develop to raise the industry's competitiveness in the world market, he added.