Prime Minister Nguyen Tan Dung has urged ministries and agencies to take drastic measures to keep the inflation rate below that of national economic growth.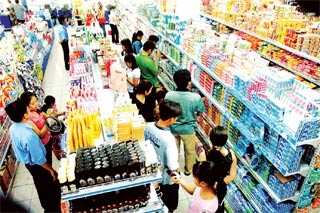 With rising prices, consumers weigh their daily purchases carefully
At a cabinet meeting on August 12, the PM asked ministries and agencies to focus on accelerating production and export, ensuring the demand-supply balance and reining in consumer price hikes in order to stabilize the macro economy and people's life.
He also asked them to regularly provide updated information to mass media in a bid to make public the developments of consumer price indexes.
According to the General Statistics Office (GSO), the consumer price index in the first seven months of this year surged 6.19 percent compared with the 4.4 percent hike in the same period last year.
The GSO also attributed the reasons of the index hike to the price increases in the world market, natural disasters, animal epidemics, the price adjustment of major materials for production such as electricity, petroleum and coals, and the surging inflow of foreign investment that caused the high supply of foreign currencies.
To address the problem, the PM has issued several urgent measures. He entrusted the Finance Ministry and other relevant ministries and agencies to set up missions to check production and trading establishments to find out reasons causing the irrational price increases of essential commodities and services while tightening the control of expenditures, and promoting the thrift practice.
In addition, he decided to reduce import-export taxes on commodities that have high price indexes, stressing the need to keep balance in supply-demand of commodities and services.
Concluding the meeting, PM Dung said the situation was still under control as the economic growth rate in the first six months reached 7.87 percent and the price index increased 6.19 percent.
However, he asked ministries and agencies to keep the price index hike below the economic growth of 8.5 percent.
Related articles:
With Duties Cut, Prices to Go Down: Deputy Minister of Finance
PM Adopts Measures to Curb Price Increases
Deputy PM Calls for Urgent Price Controls