The Vietnamese Government will continue to improve its institutions and reform its administrative system to ensure an environment that is even more liberal, transparent and conducive to ASEAN and international business in Viet Nam, Prime Minister Nguyen Tan Dung said yesterday.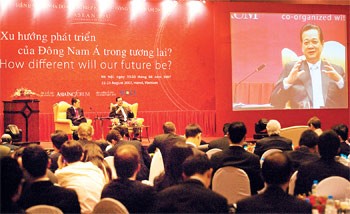 Prime Minister Nguyen Tan Dung delivers his speech at the ASEAN 100 Leadership Forum 2007 in Ha Noi yesterday
The PM made the commitment while delivering the keynote speech at the ASEAN 100 Leadership Forum 2007, themed "How Different Will Our Future Be?", in Ha Noi.
 
The government leader pointed out the country's investment opportunities and potential such as the country's consistently high economic growth, improving economic and social infrastructure, its second largest population in ASEAN, and its political and socio-economic stability.
 
He said the Vietnamese Government is ready to meet with investors to deepen mutual trust and understanding, and considers foreign investors part of the national economy and as such considers their success as contributory to Viet Nam's own development.
 
PM Dung said economic, trade and investment ties between Viet Nam and ASEAN countries have grown dramatically since the country joined the association 12 years ago.
 
Their two-way trade amounted to US$20 billion last year, a year-on-year increase of 40 percent, accounting for 25 percent of Viet Nam's international trade.
 
In addition, ASEAN nations have invested US$13 billion in almost 1,000 projects in Viet Nam, constituting 20 percent of all foreign investment in the country. Viet Nam, in turn, has poured US$700 million into 120 projects in ASEAN countries.
 
The forum also discussed such important issues as opportunities in the global economy, ASEAN infrastructure development and ASEAN competitiveness in the context of an emerging China and India.
 
Responding to Viet Nam's current position and competitiveness in the face of the rapid emergence of China and India, Mr. Dung said that Viet Nam has good traditional relationships with China and India. Both countries are big trading partners and investors in Viet Nam.
 
"Therefore, the development of China and India is an objective and advantageous condition for the development of Viet Nam, and Viet Nam's sustainable development is also advantageous for China and India," he said.
 
"Viet Nam expects to cooperate with these two countries for mutual development and prosperity, not for competition," he added.
 
The two-day forum, jointly held by the Asia Inc Forum and the Viet Nam Chamber of Commerce and Industry, brought together more than 200 entrepreneurs, government officials and representatives of social organizations from ASEAN nations.
 
The forum is seen as an interactive, thought-provoking meeting for the most promising of the next generation of Southeast Asian minds.
 
It focuses on new and emerging leaders and engages them in open discussions and debates of key regional issues and challenges and of the future of ASEAN.
 
The Association of Southeast Asian Nations (ASEAN) comprises Brunei, Cambodia, Indonesia, Laos, Malaysia, Myanmar, the Philippines, Singapore, Thailand and Viet Nam.