Around 500 delegates and leaders from ministries, agencies, localities, representatives of foreign diplomatic agencies in Vietnam, domestic and foreign enterprises attended in the event.

This is the first time that the southern province has organized a large- scale professional investment promotion conference during over past 20 years.
The conference aims to boost the province's socio- economic development.

Speaking at the conference, Chairman of the People's Committee of Bac Lieu province Mr. Duong Thanh Trung introduced the province's natural condition, potentialities, benefits and shared difficulties and challenges.

The provincial leader defined aquaculture sector is considered as the key industry for local economic development; the shrimp breeding and the Agricultural Area of High-tech Application are also the nucleus of Bac Lieu province.

Beside agriculture development, the province identified the development of renewable energy. Bac Lieu is also home to a long- term cultural tradition and the cradle of Don ca tai tu Nam Bo (Southern amateur folk music).

The southern province will create favorable investment environment and condition for domestic and foreign enterprises, pledged chairman Duong Thanh Trung.

Speaking at the conference, PM Nguyen Xuan Phuc pleasured his presence at the conference, affirming that Bac Lieu has development orientations in accordance with its potentialities and advantages such as high- tech agriculture, renewable energy, tourism, trade, health and high- quality education.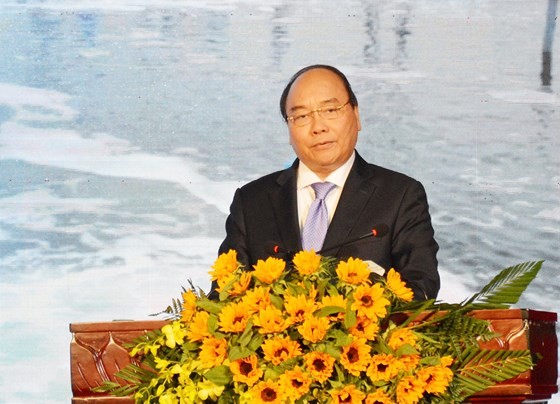 PM Nguyen Xuan Phuc speaks at the conference

Within the conference framework, Bac Lieu presented certificates to five investment projects into the Bac Lieu Agricultural Area with applications of high technology in shrimp breeding; offered investment certificates for projects in the fields of renewable energy, tourism, commerce and services, health; and signed a memorandum of understanding on cooperation between the Provincial People's Committee with local enterprises.