Prime Minister Nguyen Tan Dung has asked the whole nation to combine forces to curb inflation and strive for sustainable growth.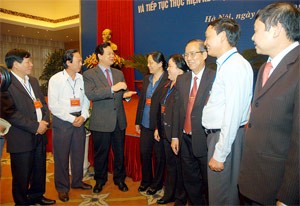 PM Nguyen Tan Dung talks with local leaders at the meeting on April 2
The PM made the call at a meeting in Ha Noi on Wednesday with leaders of northern provinces and cities to discuss measures to cope with inflation and implement the 2008 socio-economic plan.
"The whole Party and nation are required to make a combined strength to overcome difficulties and take full advantages of available opportunities, thus step by step reducing inflation, ensuring stability and sustainable development in the coming years," said the government leader.
He stressed the top priority is to subdue inflation and keep the economic growth rate at 7 percent, 1.5 percent lower than the 2007 figure.
PM Dung said the Government urged ministries, agencies and localities pay a special attention to agricultural production in order to make up the losses caused by natural disasters and the severe cold weather earlier this year.
He also asked the authorities to ensure the supply of major commodities, control the market, give food assistance to poor families, and prevent speculation and rampant increase of prices of essential goods such as medicines, insecticide, etc.
The local leaders showed their determination in implementing urgent measures put forward by the Government and gave out solutions to cope with difficulties in their localities.