Prime Minister Nguyễn Xuân Phúc has applauded the Việt Nam National Oil and Gas Group (PetroVietnam) for its noted contributions to ensuring national energy security.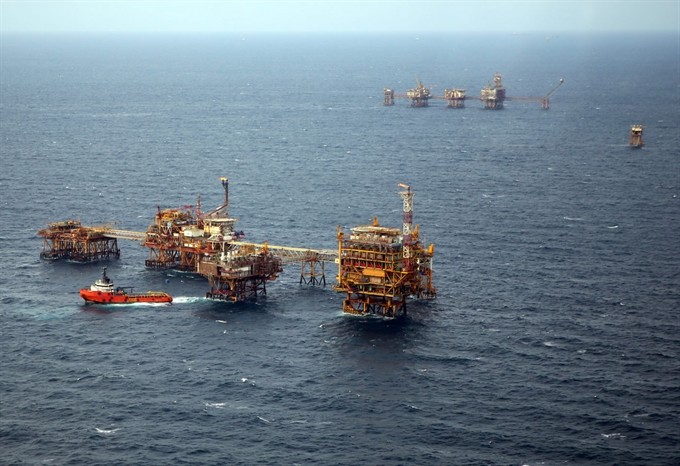 Oil rigs of the Vietnam-Russia Joint Venture Vietsovpetro at Bạch Hổ oil field. (Photo: VNA/VNS)
At a working session with PetroVietnam's leaders yesterday, the PM said in recent years, the group had significantly contributed to national industrialisation and modernisation, State budget collection and the country's socioeconomic development.
He asked the group to actualise the Politburo's resolution on a development strategy for the oil and gas industry through 2025 with a vision towards 2035.
The resolution charts major tasks for the sector, including oil and gas exploration, exploitation and processing; product reserving and distribution; and oil and gas services, particularly high-quality technical ones.
PetroVietnam's leaders and staff were also urged to do their utmost to overcome shortcomings and limitations to ensure the group's stable development.
PetroVietnam should join hands with ministries and agencies to review regulations and rules in order to improve the efficiency of State management and business administration, increase the application of scientific and technological advances and propose comprehensive solutions to fulfil tasks assigned by the Party, State and people.
PM Phúc said that with its achievements, the group would make bigger strides in the future.
As one of the country's important economic and technological groups, PetroVietnam is focusing on five key areas of operation: oil and gas exploration and production; refinery and petrochemicals; the gas industry; power generation; and high-quality petroleum technical services.
Reportedly, the group exploited a total of 4.56 million tonnes of crude oil and 2.78 billion cubic metres of gas in the first three months of this year, 7.2 per cent and 11.7 per cent more than its quarterly targets, respectively. It also provided 5.21 billion kWh of electricity for the national power grid and contributed more than VNĐ18.3 trillion (US$824 million) to State coffers.
However, the group has encountered a range of challenges, especially in oil and gas exploration, exploitation and services.
Given this, its leaders have created specific and far-reaching solutions to cope with the fluctuating oil price. In a parallel effort, PetroVietnam has increased the application of cutting-edge technologies in order to cut production costs and raise its competitive edge while seeking new markets, especially those outside the sector and abroad.
Lai Châu visit
On the same day, PM Phúc visited the northern mountainous province of Lai Châu, working with provincial authorities on the province's socio-economic development and national defence.
He said Lai Châu's location made it particularly important to national defence and security and it is inhabited by many ethnic minority groups.
Authorities and people of Lai Châu have recorded many achievements in socio-economic development; gradually increasing per capita income to VNĐ18.2 million ($816) per year.
The province has developed effective methods in agricultural and forestry development and building new rural areas. It has promoted the development of some industrial trees such as tea and rubber.
Provincial authorities proposed the Prime Minister to ask relevant ministries and agencies to speed up the implementation of the highway project linking Hà Nội-Lào Cai expressway with Lai Châu and to develop a number of infrastructure projects.
Phúc instructed the Ministries of Transport and Planning and Investment to speed up the progress of the highway project and asked relevant ministries and agencies to create conditions for the province to develop infrastructure.
Lai Châu is one among poorest localities in the country with half of its population from poor households.