The plan to sell operational rights of some domestic airports, wholly or in part, has captured the interest of many businesses, but experts caution that a comprehensive legal framework is needed this happens smoothly.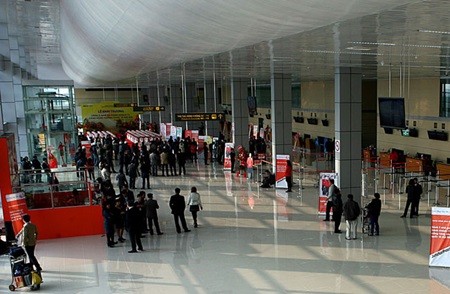 The T1 Terminal at Noi Bai International Airport in Ha Noi. Viet Nam plans to sell the operational rights to domestic airports, including this terminal, to raise funds for modernising other airports and building new ones (Photo: VNA/VNS)
In an unprecedented move, the Ministry of Transport unveiled earlier this year a pilot scheme to sell operational rights of the Phu Quoc International Airport, one of two terminals in Ha Noi's Noi Bai International Airport as also parts of the Da Nang and Cam Ranh airports.
The Ministry said the move is aimed at mobilising investment capital for major aviation infrastructure projects, including the Long Thanh International Airport.
 Shortly after the announcement, private carrier Vietjet Air and national carrier Vietnam Airlines (VNA) expressed interest in outright purchase of operational rights to T1 at the Noi Bai International Airport. The 115,000sq.m T1 with 19 boarding gates can handle nine million passengers a year.
VNA Chairman Pham Viet Thanh said buying operational rights to Terminal T1 would create conditions for businesses to implement measures reducing costs and improving business efficiency. Businesses would also become more proactive in exploiting the terminal and improving services for passengers, he said.
The initial target is to mobilise capital for constructing the Long Thanh International Airport, which is expected to cost around US$15.8 billion, Minister Dinh La Thang said.
Experts and industry insiders say that the move can be effective only if feasible norms are worked out and a proper legal framework is created by the Government.
They say the transfer of control should be public and transparent, ensuring open and equal competition in order to prevent losses to the State exchequer.
Luong Hoai Nam, General Director of the Hai Au Aviation Joint Stock Company, told the Dien Dan Doanh Nghiep (Business Forum) newspaper that he supported leasing or outright purchase of operational rights.
"Viet Nam is backward compared to countries in the region and in the world regarding investment and operation of airports. In Cambodia, the three largest airports in Phnom Penh, Siem Reap, and Sihanoukville are now managed and operated by France's ADP-M group," Nam said, adding that similar arrangements were working in Thailand's Koh Samui and Trat airports.
Thirty-five per cent of the investment capital for China's Beijing International Airport has been raised from private businesses, he noted.
Nam also said he expected the transport ministry's scheme would lead to the creation of a legal framework for mobilising private and foreign investment in expanding and modernising existing airports as well as building more airports in Viet Nam.
Economist Le Dang Doanh told Radio the Voice Viet Nam (VOV) that the privatisation of airports has been taking place in the world for a long time.
For example, the Heathrow Airport in London and Budapest Airport in Hungary have been privatised. The equitisation of such airports has brought positive results, he said.
Doanh further said that privatisation of airports would help the State source capital that it can invest in building infrastructure and other airports.
He repeated the need for a detailed legal framework for airport management by private businesses.
"Thus, it's necessary for the National Assembly to make a strict law on privatization, which would help promote the body's independent supervisory role and make evaluations more transparent," he said.
Minister Thang has asked the Civil Aviation Authority of Viet Nam (CAAV) and the Legal Department to check and adjust legal documents in line with the new Constitution and the revised Law on Viet Nam Civil Aviation to prepare for the plan's implementation.
He has also said that the regulations will prevent possible monopolistic control.
CAAV head Lai Xuan Thanh said documents to create a legal framework to encourage the socialisation of investment capital for aviation infrastructure would be basically completed by 2016.
He echoed the transport minister on preventing monopolistic control, and stressed the need to ensure that the transfer of operational rights does not affect the operation of carriers.