Provided that world crude oil prices continue to drop and the Ministry of Finance doesn't raise import duties on petroleum products, the price of petrol may go down, Deputy Trade Minister Phan The Rue told a Sai Gon Giai Phong Newspaper reporter today.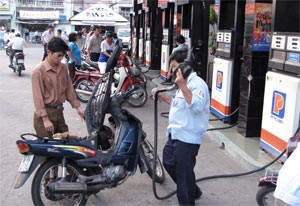 The price of petrol may go down (Photo: T.C.)
However, the price of crude oil must fall enough to translate into a minimum VND500 per liter reduction at the pumps before the price will drop, since a smaller reduction is not allowed by current pricing regulations.
 
If world oil is traded at US$54-55 per barrel until this weekend, the Trade Ministry will cut the retail petrol price.

It is said that with the import prices, Vietnamese petroleum enterprises reap profits of VND1,000-2,000 per liter. Meanwhile, according to Mr. Rue, the enterprises make only VND 20 a liter.
Officials from the enterprises themselves, however, claim they are only making about VND500-600 per liter.  
 
The import duty on petroleum products was increased from 10 percent to 15 percent on Tuesday when world crude oil was traded at US$55-56 per barrel.
Related article
Import Duty on Petrol Increases to 15%