The Trade Ministry ordered to cut retail petrol prices by VND400 per liter yesterday.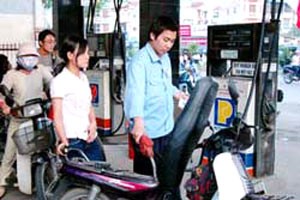 Retail petrol prices cut by VND400 per liter from yesterday
From 1:00 pm yesterday, gasoline A95 is traded at VND10,400 per liter, A92 VND10,100, A90 VND9,900 and A83 VND9,700.

Replying to a query about the only VND400 per liter reduction, Deputy Trade Minister Phan The Rue said with this amount of reduction, petrol enterprises will break even on gasoline A92 and continue to incur a loss of VND100 per liter on A90.

To regulate petroleum trade in 2007, Deputy Minister Rue said the Inter-Ministry of Finance-Trade has submitted to the Prime Minister a draft decree on amendment of Decree 178 regarding petroleum trade, namely, ensuring energy security, domestic petrol prices being close to world prices, and petrol quality.

Based on the three principles, Vietnamese petrol importers will be authorized to fix domestic retail prices on condition that the import duty on petrol products has to be stable within one year at the minimum.