The Mekong Delta is the country's key agricultural production zone but local farmers have regularly and badly hit with 'Pumper crop-price reduction' because of unconnected production and consumption. Therefore, connectivity is inevitable to sustainably develop the agricultural industry, in which new style cooperatives play important role in bringing farming households together to cooperate with local businesses.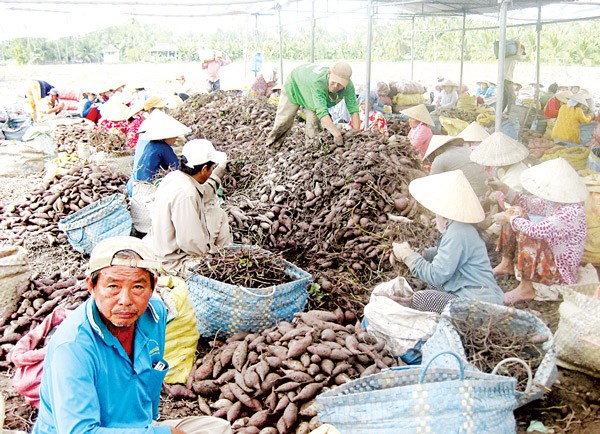 Farmers harvest sweet potato in Vinh Long province (Photo: SGGP)
The new style cooperative model has brought initial efficiency with a number of well performing ones, who have created residents' confidence to change their farming customs.
In the 30 hectare spring onion field of Tan Binh vegetable cooperative in Binh Tan district of Vinh Long province, farmers have been found busy taking care of the field in preparations for the approaching Tet holiday recently.
Farmer Nguyen Ngoc Thanh said that the nearer the Tet is, the more traders come with orders, increasing price to the highly profitable level of VND700,000-800,000 per 100 kilograms, double it over mid last year.
Tan Binh director Nguyen Cao Mien said that the cooperative had experienced a hard way before having that result.
Formerly local people planted spring onion spontaneously and unseasonably over small scales and suffered constant losses. Hence local authorities promoted establishment of a vegetable cooperative to solve the unstable production, gathered farmers together, had authorized agencies assist to practice farming under VietGap quality standard in 2014.
Afterwards the cooperative took the initiative in working with businesses in the region and Ho Chi Minh City and signed contracts, creating a stable consumption source and much more benefiting spring onion farmers than rice growers, he told.
In a daring step, Duc Hue cooperative in Thap Muoi district of Dong Thap province mobilized 50 households with adjacent rice fields totaling 100 hectares to let the fields out to the cooperative, said director Nguyen Thanh Tham.
Farmers handed over land, paid the cooperative VND22 million (US$982) a hectare per crop in cultivation costs and could do other businesses or work for the cooperative with the wage of VND150,000-200,000 a day, Tham said.

The cooperative tended the rice field and returned farmers seven tons a hectare per crop after harvest. If price is VND5,400 a kilogram, farmers earn at least VND15 million (US$669) a hectare without costing any working day on their fields.
According to Mr. Tham, winter spring crop yields over seven tons a hectare while summer autumn crop brings much lower but the cooperative has been able to give farmers seven tons a hectare thanks to cost-saving large-scale production and mechanization.
Moreover the cooperative has worked with businesses to purchase agricultural materials in large volume and enjoy preferential prices, farmed high-quality and homogeneous varieties creating good prices. 
The new cooperative model has benefited all related sides, Mr. Tham added.
Director of Tam Vu dragon fruit cooperative in Chau Thanh district, Long An province said that previously farmers kept lamenting about price fluctuations and disadvantages in selling prices which were decided by traders who always managed to force farmers to sell at low levels.
The cooperative's establishment has solved many problems as mentioned above. It has produced under VietGap standard, successfully registered a patent for Tam Vu dragon fruits for exports to the U.S., Japan, China, Singapore and France.
Besides, the cooperative management has built two cold storages, two processing plants together with drying and packaging systems.
Owning to these its products have been oversold creating high income for cooperative members.
Cooperative role improvement
Professor Nguyen Thien Nhan, chairman of the Central Committee of the Vietnam Fatherland Front, affirmed that development of new style cooperatives is a breakthrough in agricultural restructuring and farmers' income improvement.
Secretary of Dong Thap province Party Committee Le Minh Hoan said it is hard for each household to implement large scale production models because of difficulties in credit, production ability and others.
Cooperatives are able to access large-enough capital sources to invest in infrastructures and build drying facilities, yards and storages, processing plants and packaging system contributing to cost reduction, up competitiveness and farmers' income, he added.
Separate households will find it difficult to access market while cooperatives are eligible for working with businesses because they have large volume of goods and ability to build their own brands.
Despite the necessity in development of new style cooperatives, this model has met with difficulties besides some initial results because many people have been aware of cooperative role in different and wrong ways.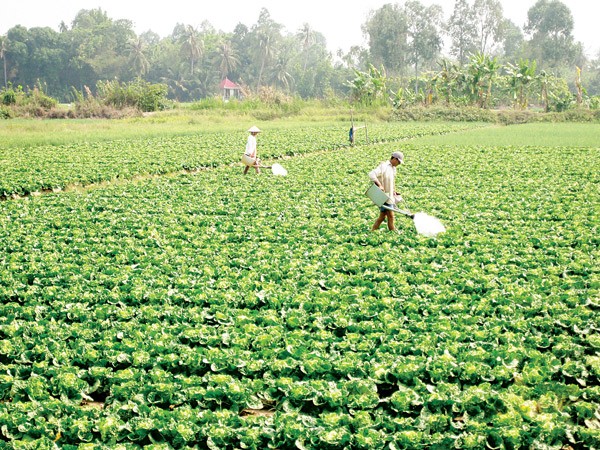 Tan Binh vegetable cooperative in Vinh Long (Photo: SGGP)
Human resources for cooperatives have not been trained methodically, their ability of science and technology application are not high and its building development strategy is limited, said Mr.Hoan.
Mr. Nguyen Van Thinh, deputy chairman of the Vietnam Cooperative Alliance, said that agricultural restructuring should be attached to cooperative activities and new rural development program.
Farmers should be taken in modern production system, trained with skills and knowledge of VietGap and GlobalGap standards to develop cooperative economics and value chains.
He proposed the Government to have long term & preferential policies to give cooperatives incentives in land planning and credit, improve management ability of cooperative officials and promote cooperatives' role as a bridge between farmers and local businesses in production and consumption connectivity.
Measures need to be carried out synchronously to sustainably develop new style cooperatives meeting new requirements for the country's development, Mr. Thinh concluded.