Vietnam's economy will be stronger in the last months of this year and the country's GDP is likely to reach 6.5 percent as targeted, or higher, said the Government.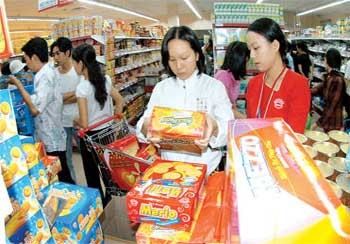 Shoppers at a Co.op Mart supermarket in Ho Chi Minh City. This year's CPI is likely to stand at around eight percent, the government says. (Photo: SGGP)
The optimistic forecast was made at the cabinet's monthly meeting for July held on August 3-4 in Hanoi to review the first seven months and discuss talks for the rest of 2010.
The consumer price index (CPI) in July increased just 0.06 percent from June, the lowest rate so far this year.

The seven-month export turnover was US$38.8 billion, up 17.5 percent from a year earlier, with 10 export items bringing in sales of over US$1 billion each. Meanwhile, trade deficit fell to US$7.4 billion, accounting for 19.45 percent of the total export earnings.

Industrial output between January and July has increased by 13.5 percent over the same period last year.
Based on such developments, total export earnings this year may raise by 17 percent while the trade deficit rate may reduce to less than 20 percent, with the CPI likely to stand at about 8 percent.
The performance revealed that all the three goals recently set by the Government have been met, including maintaining the GDP growth at 6.5 percent, keeping the macro-economy stable and improving social security, said Standing Deputy Prime Minister Nguyen Sinh Hung at a press conference held by the Government yesterday.
He also said that the inflation has declined for two consecutive months and that the Government would take measures to stabilize prices for milk and medicine.  
In addition, the Government will apply flexible policies to the prices of petrol and oil, as one of the efforts to restrain the inflation rate to 7-8 percent this year, he said.
He also forecast that the State budget deficit would be not more than six percent this year.
He asked the Finance Ministry to work with other ministries and local authorities, especially Hanoi and Ho Chi Minh City, to prevent speculation and the unreasonable marking up prices for goods, particularly milk and medicine.
He also ordered relevant agencies to tighten controls over the price of medicine at hospitals.