The European Union Charge d'Affaires in Ha Noi, Christoph Wiesner, announced at a press conference that Mr. Peter Mandelson, the Commissioner of the EU for Trade issues, proposed the imposition of preliminary duties of 16.8 percent on Vietnamese and 19.4 percent on Chinese footwear.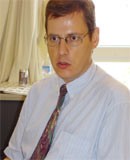 Mr. Christoph Wiesner
The duty rate imposed on Vietnamese leather shoes will be applied in periods of six months each and started from April 7th, 2006 at 4%. The EU had collected the opinions of its members before proposing the duty; thus, there might be no change in the tariff. The final tax rates will be decided after six months of the preliminary one.

He said that the EU will continue to cooperate with Viet Nam and China to solve related issues. The results of the negotiation process are the needed basis for the introduction of the final anti-dumping duty after six months. However, from now to April 7th, 2006, there should be some further negotiations.

He added that this new tax will cause an increase of EUR1.5/pair from the current wholesaling price of EUR8.5/pair, and the retailing price of EUR30-100/pair. He believed that Vietnamese and Chinese footwear export to the EU will still increase in 2006 despite difficulties.
Related Articles: