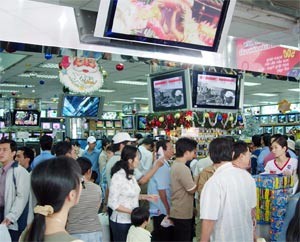 A great number of shoppers looks for electronic products at the Sai Gon-Nguyen Kim shopping center. (Photo:TK)
Many appliances stores and shopping centers in Ho Chi Minh City on the final days of 2006 kicked start series of sales promotion programs to encourage the purchases of electronic products of local consumers.
As reported by the sale department of some shopping centers, at least servral hundreds of electronic products are sold daily.
Televisions, VDC- DVD players, digital photo and video cameras, refrigerators and many other home appliances were among the best-selling items.
Some small and medium-size shops in District 2, Binh Chanh and Tan Binh also launched their sales promotion programs with discount up to 25- 50 %.
Analysts say the demand of buying electronic products is always higher than that of other products at year-end and the rising purchasing power during these days was also attributed to the fact that Vietnamese people took their three days off on the occasion of this New Year holiday to go shopping with their families.