The Ministry of Agriculture and Rural Development and the Ministry of Industry and Trade have discussed and approved this year import quotas of over 600,000 eggs from many types of poultry and 102,000 tons of salt, saying businesses can start import from April 17.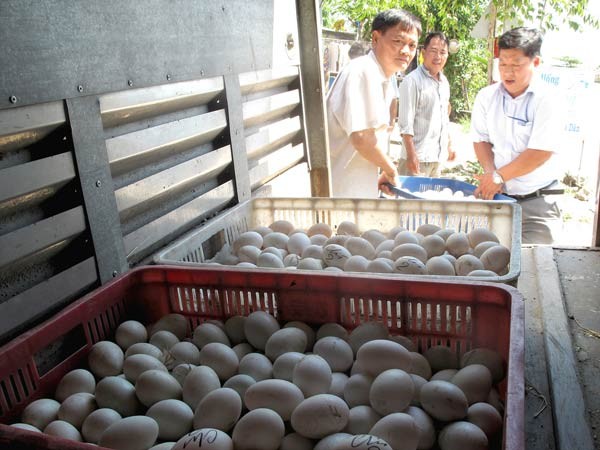 Duck eggs are transported on a truck. Poultry import quota is 600,612 eggs this year (Photo: SGGP)
The quota approval has raised public concern that local poultry breeders and salt makers will meet with difficulties because of current price plunge in the domestic market.
Talking to Sai Gon Giai Phong Newspaper, deputy head of the Livestock Production Department under the Ministry of Agriculture and Rural Development Nguyen Van Trong said that domestic egg price is very low with industrial egg price dropping to below VND1,000 an egg.
However the quota granting will worsen the situation because it has been applied for the last many years but no business has imported the product by quota. Previously, some firms imported eggs but later they stopped because local egg price has been much lower than import item.
Explaining the current low price, Mr. Trong says that supply is usually abundant in the early of every year. Egg consumption demand traditionally surges in June, July and August when cake making season for the full moon festival and Tet food preparation time start up.
Vietnamese eggs have also been exported. For instance, Vinh Nghiep Company in Vinh Long province has shipped nearly 30 million salted duck eggs to Singapore and some other nations, he added.
Mr. Phan Van Chinh, head of the Export Import Department under the Ministry of Industry and Trade says that Vietnam is now applying import quotas to four commodities including poultry eggs, salt, sugar and tobacco leaf. This is an obligatory regulation to implement Vietnam's commitment as WTO membership since 2007. From that time, the country must issue import quotas on these commodities and increase them 5 percent every year.
According to the Vietnam Chemicals Agency and the Department of Processing and Trade for Agro-forestry-Fisheries Products and Salt Production, the country had 9,634 hectares of manual salt production supplying 2,580 tons as of February 20 this year.
Industrial salt making area was 4,313 hectares with the output of 11,129 tons. The salt volume of businesses totaled 395,007 tons.
Despite the abundant supply, industrial and medical chemical producers have still depended on import source because they need high quality, high salinity and clean refined salt but domestic products have yet to meet the requirement.
Therefore, businesses have not only imported salt by tax preferential quotas but also out of quotas. In 2015, they purchased 312,986 tons out of quotas to supply chemical producers.
Besides quality, another reason for the salt import has been price. Import salt price including taxes and transport fee have still been lower than domestic salt, causing the import unavoidable, the later department explained.
Specific time for salt import will be suggested by the two ministries depending on supply and price in order not to affect local producers.