Staff from Sai Gon Giai Phong newspaper's Investment and Finance supplement and the Steering Board for the Southwestern Region held a seminar in Can Tho yesterday to discuss how the Mekong Delta region could attract capital for its development.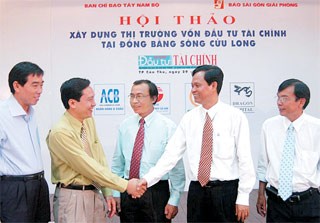 Hoang Van Khang of Sai Gon Giai Phong (C) at the seminar in Can Tho
The Mekong Delta has enormous development potential and human resources but it has yet to make the most of its advantages as the region's enterprises have insufficient capital for expansion.
 
Nguyen My Thuan, general secretary of the Can Tho Enterprises Association, said there is an increasing demand for long-term commercial loans but the terms for bank deposits are getting shorter and shorter as most people prefer to keep their savings in gold rather than cash.
 
The upshot is that small to medium-sized enterprises, which account for 90 percent of the businesses in the Mekong Delta, find it very hard to borrow money.
 
Many enterprises and investors present at the seminar agreed that a securities trading center in Can Tho would stimulate the local capital market.
 
According to Huynh Phong Tranh, member of the Party Central Committee and deputy head of the Steering Board for the Southwestern Region, the key factors to create a stable capital market in the region are infrastructure development, improvement of human resources, strategic vision, and regional connection.
 
Concluding the seminar themed "Establishment of a Capital Market and Financial Investment in the Mekong Delta", SGGP deputy editor-in-chief Hoang Van Khang said the organizing board will convey the opinions about finding financial sources and seek solutions to help develop the region.
 
The Mekong Delta has the largest volume of agricultural and aquatic production in the country. It is also a big consumption market.
 
The region produces half the country's rice, 70 percent of its fruit and more than half of its fish and other aquatic products, and it supplies 90 percent of Viet Nam's rice exports and 60 percent of its fish exports.