Statistics from the General Department of Vietnam Custom show that the US is Vietnam's biggest importer in the first months of the year.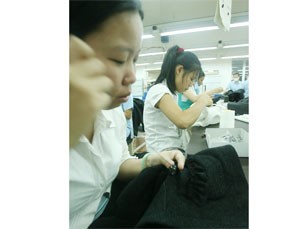 Vietnam's producers remain too week to compete with their counterparts from other countries (Photo: Minh Tri)
However, local exporters' forays into the US market have not been as strong as expected due to their low-quality products and a shortage of cooperation, Nguyen Duy Khien, head of the American market department, says in an interview with Dau Tu Tai Chinh Newspaper.
"Vietnam's products made out measly 2.4 percent of the US's import turnover," Khien says.
"Among Vietnam's exporters earning highest turnover are producers in sectors, such as textile, footwear and seafood. But they are still too week to compete with their counterparts from other countries."
Despite its strong consumption, the US market has very strict requirements of quality, leaving many Vietnamese companies struggling to meet up, he says.
"In 2009, the US's amended Lacey Act bans commerce in illegally sourced timber and timber products," Khien says.
"It also requires the importer to declare country of harvest, scientific species, quantity and measure, as well as the value, causing many difficulties to Vietnamese furniture exporters."
He also adds that local producers are also hindered by anti-dumping lawsuits.
Vietnamese manufacturers with low output capability fail to meet up the US's large purchase orders.
"Local exporters have entered the US market through importers. They still cannot approach distribution network," Khien says.
"Thus they cannot acknowledge the demand of consumers and earn low profit margin.
"For example, the deficit between export cost and retail price on the US market of Vietnam's shrimp is around US$10 per kilogram, while the gap of apparel amounts to 40 percent."
To beef up export, Vietnam's enterprises should team up to complete large orders, Khien proposes.
Small companies in a similar sector should cooperate with each others in order to reduce expenses and boost their competitiveness.
"Working together helps small- and medium-size enterprises to cope with material shortage, as well as complete large orders on time," he notices.
Khien also recommends that local producers should set up strategies to directly approach the US's retail distribution, contacting consultancies which are working with suppliers.
Figures from the American Market Department show the products exported into the US market fetched 24 percent of the country's turnover in 2010.
Vietnam now ranks 29 th among 233 trade partners of the US with bilateral trade reaching more than $10 billion in the first half of the year, a year-on-year rise of 21 percent, according to the US International Trade Commission.