Chinese goods which have already flooded Vietnamese market for the last many years via cross-border trading and smuggling will continue overflowing local market with lower prices when ASEAN-China Free Trade Agreement (ACFTA) takes effect in 2018.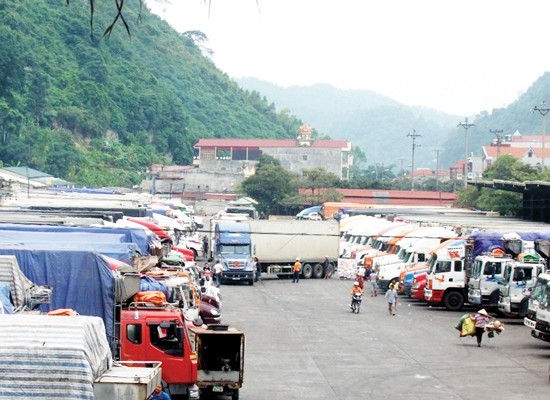 Trucks transport Chinese import goods across Tan Thanh border gate, Lang Son province (Photo: SGGP)
According to the Ministry of Industry and Trade, the Government has issued Decree 128 on preferential import tariff for goods from ASEAN and China to implement the ACFTA in the phase of 2016-2018. 
Thousands of commodities comprising vegetables, seafood, frozen food and meat originated from China and ASEAN countries including the Philippines, Thailand, Singapore, Myanmar, Malaysia, Laos, Indonesia, Cambodia and Brunei will enjoy 0 percent tax rate.
In return, Vietnamese farm produce such as coffee, tea and seafood will see tax exemption when being exported to these markets.
The Industry and Trade Ministry said that Vietnam will abolish 90 percent tax lines  by the end of 2018 to implement commitments under the ACFTA. The remaining tax lines will reduce to 5-50 percent by 2020.
Experts forecast the FTA will put a heavy pressure on Vietnamese businesses who will cope with a huge volume of low cost goods flowing into the country. The most effected field will be farm produce.
Chinese fruits have already overflowed Vietnam via cross-border trading, says head of the Lang Son province Customs Department Hoang Khanh Hoa. The FTA will remove the current tariff rate of 15 percent on hundreds of Chinese goods granted with certificate of origin by the Ministry of Industry and Trade.
Deputy Minister of Agriculture and Rural Development Vu Van Tam said that tariff abolishment was an obligatory requirement for international integration. 
Officials inspect a Chinese goods truck on its way to Hanoi in Lang Son Province (Photo: SGGP)
Mr. Hoang Trung, head of the Plant Protection Department under the Ministry of Agriculture and Rural Development, reported that Vietnam spent close to US$500 million on importing pesticides a year on average for the last five years, 50 percent of the import volume came from China.
According to the General Statistics Office of Vietnam, China was still the largest import market of Vietnam during the first nine months this year with the total turnover of US$36 billion and trade deficit of $21.3 billion.
The most imported items include cloth with $3.93 billion; garment, textile, footwear and leather materials $1.38 billion; computers, electronic items and components $4.1 billion; machines-equipment-devices $6.5 billion and steel $3.2 billion.
In addition, seafood import turnover hit $45.3 million and vegetables and fruits touched $146.9 million.