Vietnamese business tycoons announced their plans to invest in agriculture to keep up with rising demand for high-quality produce.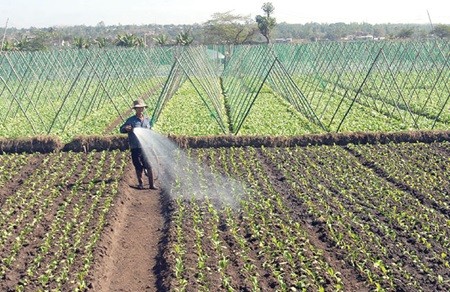 A farmer waters his vegetable field in the Central Highlands province of Gia Lai's An Phu Commune. The quality of domestic farm produce is expected to improve as big local businesses pour capital into the agricultural sector (Photo: VNA/VNS)
The move should help the agriculture sector with its reform process. Vingroup, Viet Nam's top real estate developer, launched a new unit this week, VinEco, which will supply green, organic agricultural products for domestic and overseas markets. Its investments are worth VND2 trillion (US$92 million).
To start out, the unit will grow organic fruits and vegetables that comply with VietGAP and GlobalGAP farming standards for food safety.
Last week Vingroup asked authorities in the northern province of Quang Ninh to allow the firm to set up large-scale farms for vegetables, fruits and other agricultural products.
Prior to Vingroup's announcement, Hoa Phat Group, one of the country's big names in steel production and real estate, said the firm's long-term strategic investments would focus on agriculture.
Initially Hoa Phat Group will invest VND300 billion ($14.1 million) in establishing an animal feed plant with a capacity of 300,000 metric tonnes a year in the northern province of Hung Yen.
Viet Nam's animal feed market is worth around $6 billion annually, and the country is expected to churn out 15.6 million metric tons this year, up 6.1 per cent on the year, according to the Ministry of Agriculture and Rural Development.
However, this number cannot meet market demand. According to the sector's development strategies, Viet Nam needs 18 to 20 million metric tonnes of animal feed by the end of this year, and around 25 to 26 million metric tonnes by 2020.
Doan Nguyen Duc, chairman of the conglomerate Hoang Anh Gia Lai, which previously concentrated on real estate, said the company turned to agriculture and set up rubber, sugarcane, palm oil and maize plantations in Laos and Cambodia in 2008 after recognising that the local realty sector had many potential risks.
As of mid-2014, Hoang Anh Gia Lai owned about 44,500ha of rubber, 8,000ha of sugarcane, 17,300ha of palm oil and 5,000ha of maize. Taking advantage of available agricultural by-products, the firm executed a plan last year to raise 100,000 cows in Viet Nam.
Nguyen Tri Ngoc, former head of the Cultivation Department of the Ministry of Agriculture and Rural Development, said that without businesses' investments, Viet Nam's agriculture would face great difficulties in its development.
"I'm glad businesses are paying attention to this sector," Ngoc said.
However, certain difficulties remain for businesses that need support from the Government.
Dang Kim Son, director of the Strategic Institute of Agriculture and Rural Development, said enterprises find it hard to identify large areas for agriculture production, because regulations on land compensation and taxes are unclear.
Nguyen Van Bo, former head of the Viet Nam Academy of Agriculture Sciences, said the Government should support enterprises looking to buy land so that they could afford to invest in high-tech production methods.