A concerted effort by all stakeholders, from policymakers to entrepreneurs, is needed to make Vietnam more competitive, Deputy Prime Minister Vu Duc Dam said yesterday.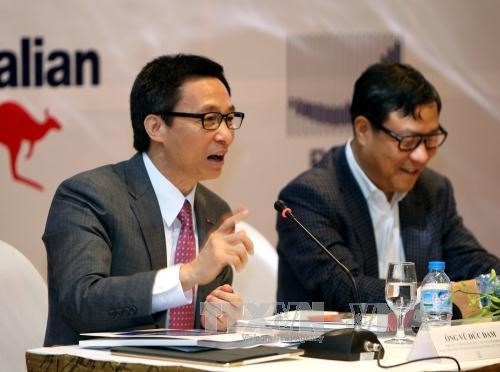 Deputy PM Vu Duc Dam (left) and Deputy Minister of Planning and Investment Dang Huy Dong address at the meeting. (Photo: VNA)
At a conference held in the capital city to discuss ways to improve the nation's competitiveness and its business environment, he said all ministries, departments and local authorities must strive to implement Resolution 19 together with private businesses.
"I hope to be side by side with every single businessperson in Vietnam to take on this task. Each individual business should think of not only its own favourable condition, but also of the growth of the nation as a whole; they should have patience and faith in the development of national business environment," Dam said.
"Meanwhile, ministries should work hard on improving poor regulations and solve problems with circulars that lessen troubles for businesses," he added.
The Deputy PM stressed again that the guiding principle of the Party's Resolution 19, which focuses on improving Vietnam's business performance and environment, requires the combined efforts from policymakers and the entrepreneur community.
However, the speed at which Resolution 19 is being applied today is still limited, and the country is yet to catch up with other nations in the region in terms of removing obstacles and creating a nourishing atmosphere for businesses, said Deputy Minister of Planning and Investment Dang Huy Dong.
"The traditional way of implementing regulations, step by step without active participation of the entrepreneur community and creative ideas from administrative agencies in accordance with the spirit of a constructive government… will make it hard to achieve our proposed objectives…," he said.
Resolution 19 envisages Vietnam achieving the same ease of doing business as the ASEAN 4 (Singapore, Malaysia, Thailand and the Philippines) by the end of 2017.
Mr. Dong said this involves meeting several criteria including improving regulations; controlling export and import of goods and services according to global standards; shortening procedures and waiting time for filing and paying taxes, insurance, and building a support system for a stable liberated environment for business.
Nguyen Dinh Cung, Director of the Central Institute for Economic Management (CIEM), pointed out several shortcomings in administrative management, which he said lacked creativity and flexibility.
He also pointed out that many documents listed in Regulation 19 have not been amended as required.
Nonetheless, Cung said, there have been many changes of great importance to help improve the overall business environment in Vietnam.
"For example, the Ministry of Industry and Trade has amended their circular on textile products to help businesses save costs, and has freed them from filling in thousands of forms for excessive quality control. In the end, for Resolution 19 to fully integrate into daily life, there must be simultaneous action and close collaboration between business and policymakers, under the guidance of the Prime Minister and the Deputy Prime Minister," he said.
The CIEM has also recorded continuous improvement in Vietnam's global business environment ranking, such as jump of 9 places from 91 to 87 in 2016, the most significant advance since 2008.
 "Legal and customs procedures are still lengthy and complex, which cost us much time and money.  We businessmen ask the government to issue supporting frameworks and mechanisms to help businesses meet the required standards for our products," said Le Tien Truong, General Director Vietnam Textile and Garment Group.
Conference participants noted that the current Resolution 19-2017/NQ-CP was an improvement of previous versions, with more detailed criteria to measure the level of development of Vietnam's business environment and national competitiveness, especially in comparison with other nations.