The total capital invested in export processing zones (EPZs) and industrial parks (IPs) in Ho Chi Minh City in the first three months of 2015 exceeded US$381.7 million, up 48.5 percent from the same period last year.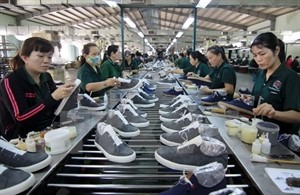 The total capital invested in EPZs and IPs exceeded US$381.7 million (Photo: VNA)
Accordingly, foreign direct investment (FDI) reached US$345.5 million, up 43.7 percent, while domestic investment accounted for US$36.2 million, a 118 percent annual increase.
The value of exports of businesses in EPZs and IPs in the period reached US$1.1 billion, up 8.61 percent.
Deputy Chief of the HCM City Export Processing and Industrial Zone Authority (HEPZA) Nguyen Bach Hoang Phung commended the FDI surge in the municipality despite a nationwide reduction in the past three months.
Meanwhile, two of 22 new licensed projects were put into operation and another 10 projects are renovating warehouses and preparing to commence shortly.
In an attempt to magnetize more investment capital, the city will focus on improving infrastructure in the four industrial parks of Dong Nam, Hiep Phuoc, Tan Thuan and Linh Trung.
HEPZA will cooperate with relevant bodies to support enterprise access to concessionary funds, improve technology skills and bolster administrative reform.
To date, EPZs and IPs in HCM City have been home to 1,342 valid projects with a total investment of US$8.7 billion, including 536 FDI projects with a total registered investment capital of US$5.22 billion. The zones reported an occupancy rate of 54 percent.