With food and building materials getting more expensive almost by the day, the price inflation in Viet Nam shows few signs of abating in the short term although there is a speck of light on the horizon, an economist from Citibank told a Ha Noi audience on Wednesday.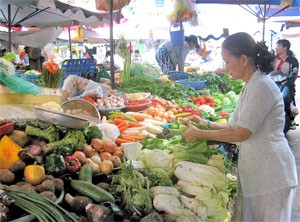 With food gets more expensive, the price inflation in Viet Nam shows few signs of abating in the short term
Some prices might come down thanks to the lowering of certain import tariffs though it will take some time to see whether the cuts really do flow on to the consumer, he said.
 
Despite the talk of doom and gloom, Citibank is optimistic that the growth in the Vietnamese consumer price index will eventually fall below the country's GDP growth rate, which is estimated to be eight percent this year.
 
In order for that to happen, though, the price of oil must stabilize, stricter currency controls must be brought in, and more effort must go into monitoring the prices of staples like rice and sugar.
 
The Citibank economist noted that the Vietnamese dong had weakened against the US dollar by around 0.8 percent in the past month.
 
With global finance markets getting into a tizz and the State Bank of Viet Nam trying its hardest to accumulate more foreign reserves, the demand for US dollars is rising, particularly from importers and manufacturers.
 
The broadening of the exchange rate difference between the dollar and the dong is a sign of declining demand for Vietnamese currency.
 
As risk returns and capital flows decrease, the dong will come under increasing pressure.
 
The country's trade deficit doubled in the first half of 2007 because of the steep rise in import prices.
 
Still, the Vietnamese economy is strong enough to weather the storm and the enormous increase in domestic demand will compensate for any decline in export-over-import ratio.
 
Mr. Nguyen Tan Dung's retention as prime minister and his newly appointed, youthful and knowledgeable government members will foster administrative and economic innovation, the man from Citibank said.
 
He finished by warning Viet Nam to be alert to the danger of spreading disease, the continuing weakness of the dong, the payment surplus of the nation's banks, and the tardiness in restructuring and selling off state-owned banks and enterprises.