The Ministry of Industry sets the developmental plan in 2007 for the country's industry and instructs measures to carry out it at a meeting today.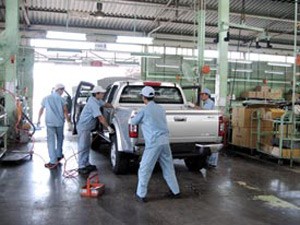 Car industry is developing in Viet Nam (Photo: T.C._
The growth rate of the country's industrial sector is set to increase 17.1 percent compared to last year. The value of industrial production will have to reach VND580 trillion (US$36 billion).

Of the target, state-owned sector will increase 9 percent, private sector 24.1 percent and foreign invested sector 18.5 percent.

Exports of industrial products are expected to fetch US$35.43 billion, a year-on-year increase of 17.7 percent, accounting for 76.2 percent of the country's total export turnover.

The set targets are rather high so that the ministry asked enterprises to boost production and exports, and make full use of the sector's capacity to develop.

Enterprises should prioritize development of potential products for export and those which can become new key export products.

Companies also should improve scientific, technological and training activities and take the initiative in the international economic integration.

State-owned companies will have to be reformed, restructured and equitized this year.

Industry Minister Hoang Trung Hai said enterprises should shift their business to overseas investment to improve their chances of investment and profit.

Recently, some Vietnamese projects abroad have attracted attention, namely Sekaman hydroelectricity plant in Laos and the Viet Nam Oil and Gas Corporation's oil exploitation in Malaysia.