An improved trade relation between Vietnam and the US ushers in great chances for local exporters to foray into the world's biggest consumption market.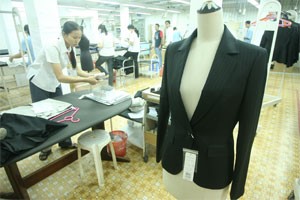 TPP is expected to usher in great opportunities for Vietnam's textile makers to enter the US market (Photo: Minh Tri)
Statistics show the trade relation between Vietnam and the US has been improved significantly since the Southeast Asian country was offered the Permanent Normal Trade Relation (PNTR) in 2007.
Vietnam's export turnover in the US last year surged to nearly US$15 billion from $1.4 billion in 2001, amounting to 20 percent of the country's turnover.
Figures from the US Economic Statistics indicate that the US is the world's biggest consumer, with an import turnover of more than $1.9 trillion in 2010.
Therefore Vietnam's export turnover of $15 billion remains very low, local analysts say.
The Trans-Pacific Partnership (TPP), also known as the Trans-Pacific Strategic
Economic Partnership Agreement, is set to usher in great opportunities to Vietnam's exporters, says Tran Tuan Anh, Deputy Minister of Industry and Trade.
The agreement is to further liberalize the economies of the Asia-Pacific region.
The original agreement between the countries of Brunei, Chile, New Zealand and Singapore was signed in 2005, and entered into force in 2006.
Five additional countries – Australia, Malaysia, Peru, United States, and Vietnam – are negotiating to join the group.
On the last day of the 2010 APEC summit, November 14, leaders of the nine negotiating countries endorsed the proposal advanced by President Obama that set a target for settlement of negotiations by the next APEC summit in November 2011.
Economists say made-in-Vietnam products, especially foods, are still not popular in the US despite a great demand from 1.3 million overseas Vietnamese.
Therefore, the market is significantly potential for local producers.
"The US's consumption demand is huge, so the competition is not too harsh. However, the question is whether Vietnam's enterprises can meet up the market's requirements," says Nguyen Duy Khien, head of the Ministry of Industry and Trade's American Market Department.
The US market requires both fancy products for rich people and low-cost ones for low-income earners, Khien says.
"Local businesses definitely cannot compete with other foreign companies in selling fancy products, while they surely cannot overtake China's low-cost products," he notices.
"Thus they should focus on hand-made products."
Khien also adds that just a few of Vietnam's fruits, such as dragon fruit and rambutan, have entered the US market. Yet their quality usually goes down due to strict examinations and long trips.
"Vietnamese enterprises should attend exhibitions in the US, which can offer them chances to meet US's businesses. Directly contact will give local exporters great trade opportunities," he proposes.
Statistics show 70-80 percent of purchase orders to Vietnamese exporters come from foreign partners, while the rest are achieved by local enterprises, who initially seek importers.