Ho Chi Minh City was among the world's 10 most expensive cities for residential buyers in the last five years, but actually the city's property prices are well beyond their true value, says the city People's Committee chairman Le Hoang Quan.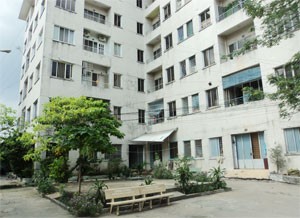 A medium-cost apartment block in HCMC's Binh Thanh District (Photo: Minh Tri)
Therefore, the HCMC real estate market needs to be stabilized in the upcoming time, Quan proposed.
Nguyen Manh Ha, head of Housing and Real Estate Management Department, said rapid urbanization combined with soaring population have piled up pressures on the country's housing.
As Vietnam's home price to income ratio remains very high compared to other countries', local salary earners are unable to purchase property, Ha said.
"Vietnam's ratio is around 24.5-27 compared to Southeast Asian region's 6.25, South Asian region's 4.14 and Europe's 6.25," he said.
In the period of 2006 and 2010, HCMC designated an area of 103 million square meters for building living accommodations, raising the housing space per capita to 14.3 square meters per person.
However, the deficit between supply and demand remains significantly large, analysts say.
The HCMC People's Committee has set a target of raising the gross floor area and the ratio of living space per capita to 39 million square meters and 17 square meters respectively in the period between 2011 and 2015.
The city's authority is also set to relocate 13,000 households living in slumped houses at canals before the period.
Unattractive policies for builders
Vu Van Hoa, head of the HCMC Export Processing and Industrial Zones Authority, said just a few of construction firms were eager to build houses for workers due to unattractive policies.
The city authorities offer builders carrying out worker housing construction projects exemption from personal income tax.
However, only builders granted project license in 2009 could achieve the tax exemption.
Property firms also found worker housing projects with low return rate and long payback period are not good deals.
Statistics show 143 out of 404 housing projects in HCMC have been put in use, an equivalent of nearly 35,200 apartments and 2,200 villas. Of the amount of the apartments, 36 percent are luxury.
Nguyen Tan Ben, director of the HCMC Department of Construction, said city people still struggled to purchase property although housing price declined slightly on the government's tight monetary this year.
"Medium-cost houses are sold at the average of VND19.3 million (US$965) per square meter, while low-cost houses are offered at the rate of VND14 million per square meter," Ben said.
"Middle-income earners definitely cannot afford a house with that price. They also dare not to borrow from banks due to high lending rates."