The country's gross domestic product (GDP) growth will reach 6 percent in the fourth quarter thanks to rising demand in the last months of the year and a stronger macro-economy.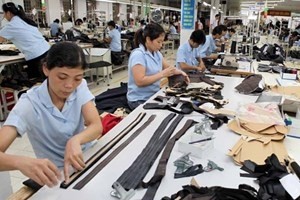 Illustrative image. (Photo: VNA)
The rise was forecast by the National Financial Supervisory Commission, which added that it will bring the annual GDP growth to 5.3 percent, still lower than the Government's target of 5.5 percent.
The commission said rising demand in the lead up to big holidays such as the Lunar New Year will help lift the GDP growth in Q4.
Improvements seen in the country's macro-economy in October are also expected to boost growth, the commission said.
It further said that the purchasing managers' index (PMI) hit a high of 51.5 in October thanks to rising export orders and that the industrial production index in Q3 also rose to 6 percent, up from 5.2 percent in Q2 and 4.5 percent in Q1.
Exports in October also surged 15.2 percent while imports were lower than in previous years, although the buying of raw materials and equipment for production rose significantly.
The rise of material imports showed that domestic production has been stronger, it said.
But the commission said it is hard to maintain the high GDP rise in the long term, reasoning that it will not be feasible under the current economic growth model.
The Government should speed up economic reforms within the next 2-3 years to enhance productivity and raise economic growth in the long term, the commission recommended.
It also anticipated that the country's average monthly inflation will jump by 0.6-0.8 percent from now to the year's end, providing there are no sudden and large changes in prices of commodities controlled by the Government.
It said that commodity prices will post the highest price increases in the last quarter of this year, driven by hikes on food and foodstuffs, higher seasonal purchasing demand in the run up to the Calendar New Year and Lunar New Year, plus the possibility of petroleum and gas price adjustment.
The commission forecast this year's inflation will be controlled at around 7 percent as targeted, provided there are good management and regulations on prices of goods and services.
Inflation had risen 5.14 percent by October this year.