Following the rise in fuel costs last week, the prices of many essential goods are surging and will continue to increase as many producers said they will have to raise prices.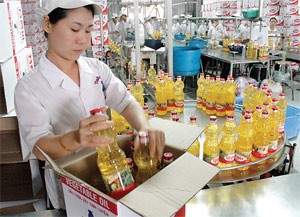 Cooking oil prices rise as fuel prices surge
Ms. Thu, the owner of a grocery shop on Nguyen Thi Minh Khai Street, said all goods at her shop except sweets have increased by 5-12 percent since early this month.
 
For instance, a one-kilogram can of Gain IQ milk powder increased by VND12,000 to VND228,000, one-litter bottle of Tuong An cooking oil rose from VND24,500 to VND26,500, and instant noodles went for VND78,000-80,000 per box, up VND10,000-13,000.
 
The retail price of rice has soared to new heights, about VND1,000-1,500 per kilogram, or 7-12.5 percent.
 
A rice wholesaler in Binh Thanh District said the lowest quality rice at her shop was sold at VND5,000 per kilogram six months ago, now it sells at VND7,000 per kilogram.
 
Rice wholesalers said the rice prices will continue to grow and attributed the price hike to the rise in transportation costs since early this year.
 
Housewives have switched to using lard due to the high price of cooking oil, however lard has also begun to increase, to VND30,000 per kilogram, up VND5,000-10,000 from the same period last year.
 
Goods in supermarkets have seen less of an increase than goods sold at markets or those in smaller shops. Only cooking oil, cosmetics, and some brands of milk have gone up 5-10 percent.
 
The director of one supermarket said prices of goods at supermarkets have remained unchanged or increased only slightly as they have been selling off stock bought at lower prices.
However, many goods will increase early next month because supermarkets are already receiving higher priced quotes from distributors for new order stock, he said.
 
Restaurant owners are considering whether to raise prices in order to maintain the quality of food or to reduce the quality and keep prices unchanged. Some restaurants have already raised prices but food quality seems to have gotten worse.