The domestic gold price on these days kept rising, following the global trends and due to a possible demand recovery for gold products during Christmas and New Year.
Ho Chi Minh City-based Saigon Jewelry Company's (SJC) gold price today closed at VND12.7 million a tael (1.25 ounces), an increase of VND100,000 a tael over Sunday.
Meanwhile, gold price in the international market this morning also increased by US $10 an ounce over last week to close at nearly US $647 an ounce.
The gold prices witnessed an increase of 1% last week in the domestic market, while increasing nearly 3% in the EU and US markets.
Previously, the higher gold prices have made jewellery shops silent because local consumers did not made purchases in the last few days as they were waiting for prices to decrease.
According to Director of SJC's Hanoi branch Luu Quang Dien, jewellery sales were bringing in half of the daily total turnover to the company, while they just accounted for one-third of the total turnover previously, since only those who want to buy jewellery gold are coming to gold shops these days.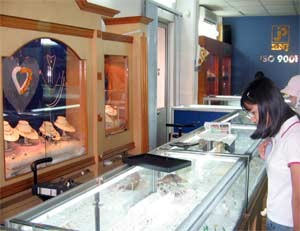 Analysts predict that more Vietnamese people would purchase gold products during Christmas and New Year. (Photo:TK)
The main reason behind the sharp increase of gold prices last week was the weakness of the greenback against other currencies. Last Friday, the euro fetched 1.31 US dollars, marking a record rate over the last 19 months. The pound has also increased in value to its peak over the last two years at US $1.9351.
In addition, the high economic growth rate of euro zone has been leading to the stronger euro. Leading countries such as Germany and France have seen their highest economic growth rates in the last six years.
Since last December, the European central bank has five times increased the basic interest rates in order to curb inflation. The interest rate for the Euro is forecasted to see further increases if the economies continue to see high growth.
Meanwhile, the US economy has shown signs of slowdown, and interest rates have been maintained at 5.25% over the last three months. If the current situation cannot be improved, the US Federal Reserves will have to cut interest rates in an attempt to stimulate investment.
As the gap between the dollar and the euro is increasingly narrowing, the dollar has become less attractive in the eyes of investors. Therefore, gold has become a favored investment. Experts have forecast that the gold price may reach US $650 or even US $700 an ounce by year end.
So far, the gold prices have risen by 24% in value this year, compared with only 18% of last year, and the US dollar has lost 10.5% in value against the euro.